If you love Japanese hot springs, but are unable to visit under this pandemic, Yunohana may be the answer for you! In this article, we will introduce this unique onsen bath salt that can only be found in Beppu yet is famous across Japan.
Beppu Encourages Social Distancing
Since 2020, the onsen resort town of Beppu has been sorely missing its visitors. Prior to the coronavirus outbreak, Beppu welcomed millions of guests annually, a significant percentage of which were foreign tourists. However, recognizing the importance of staying safe in light of COVID-19, Beppu City launched an awareness campaign last April in addition to a new onsen logo (you can read about their efforts here).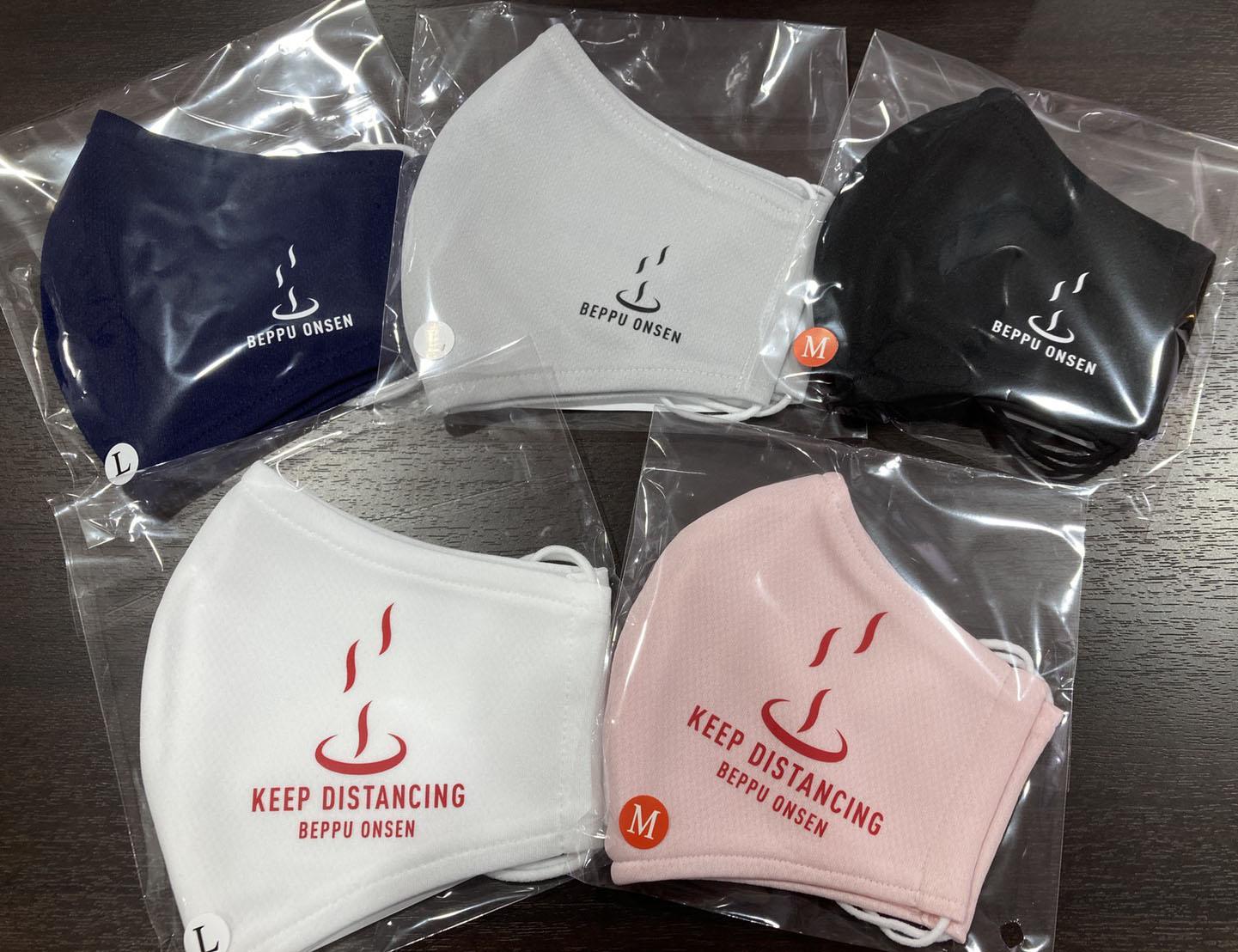 Since last year, these masks have been all the rage in Beppu.
Now, we have entered 2021 and a return to normalcy remains in the distant future. The city of Beppu realizes that many onsen fans are itching to bathe, but cannot due to safety concerns and travel restrictions. So, the city came up with the idea to bring Beppu Onsen to them.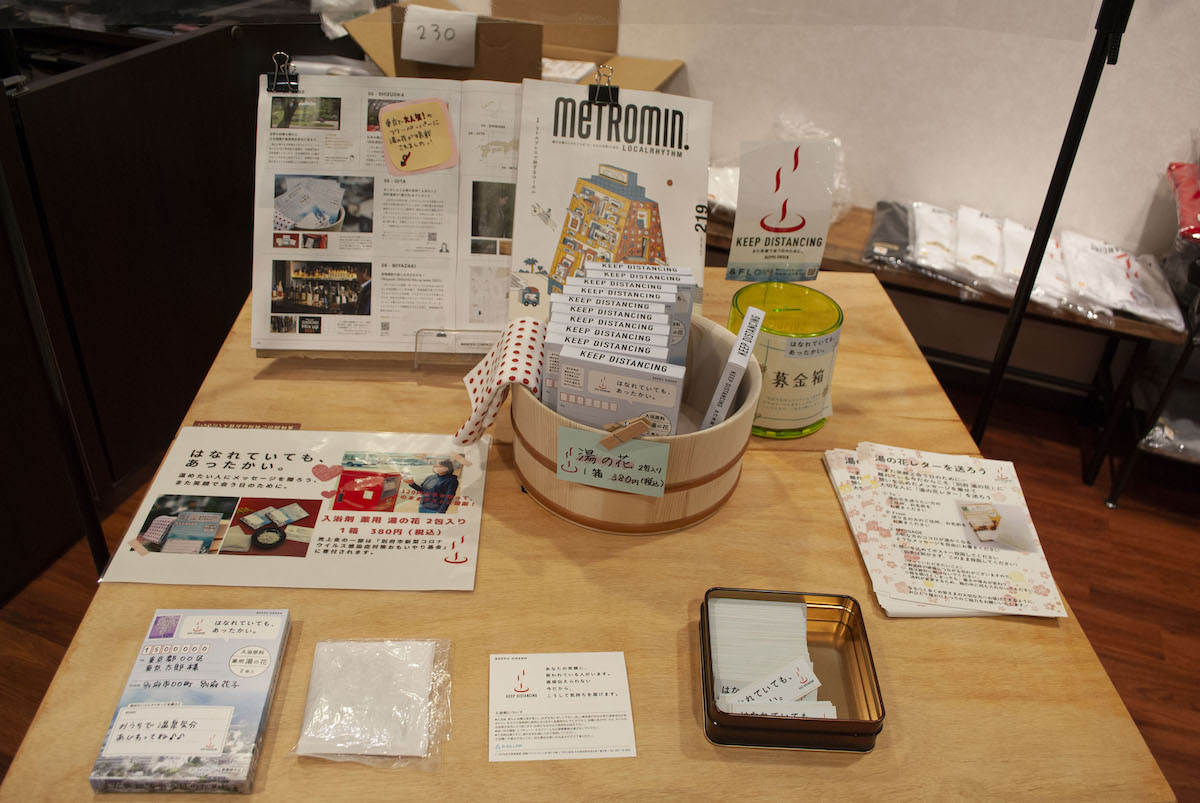 Hot Spring Bath Salts Called Yunohana
Yunohana are Japanese bath salts cultivated through the rich onsen waters of Myoban and Yuyama in Beppu. This area's onsen contain a high sulfuric content and are widely regarded for their efficacy in removing sebum and dirt from the skin; they are even recommended by a local beauty guru as the first step in her hot spring beauty routine!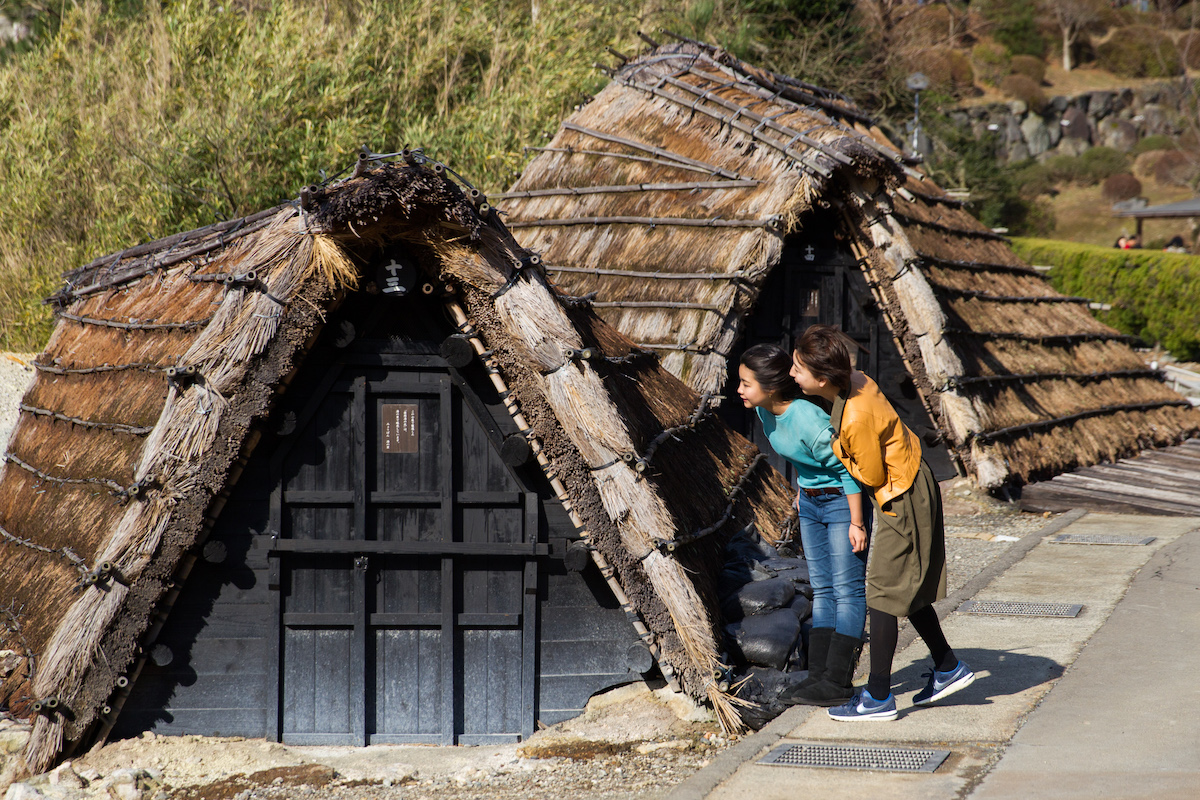 Locals have been cultivating Yunohana since the Edo Period. They created huts called "yunohanagoya" to cultivate the bath salts by crystalizing blue clay and onsen steam containing the minerals of their native onsen in a process that is unique to Beppu. This folk tradition has even been designated as an intangible cultural property of Japan.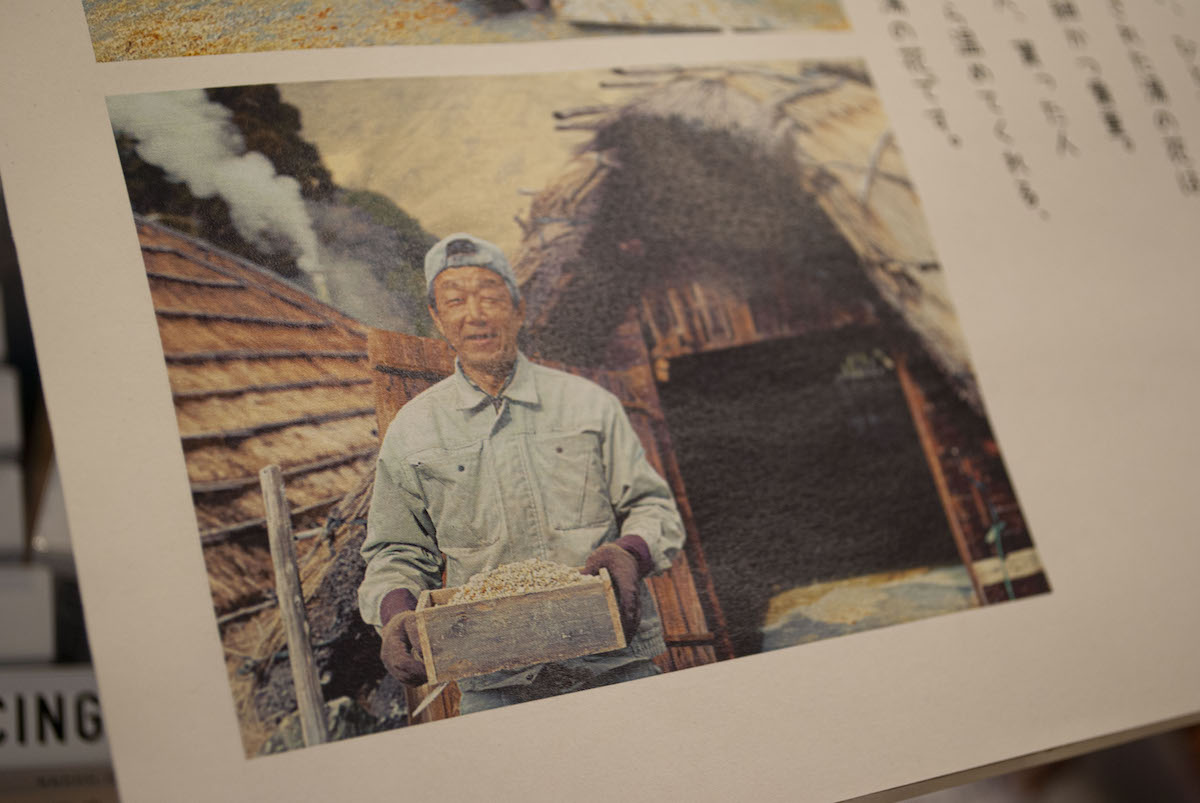 Other beauty and health products using the natural gift of onsen can be found here!
Send Loved Ones Some Warmth
In a continued effort to raise awareness and spread love to those we cannot meet during these times, Beppu City created these special yunohana gift boxes.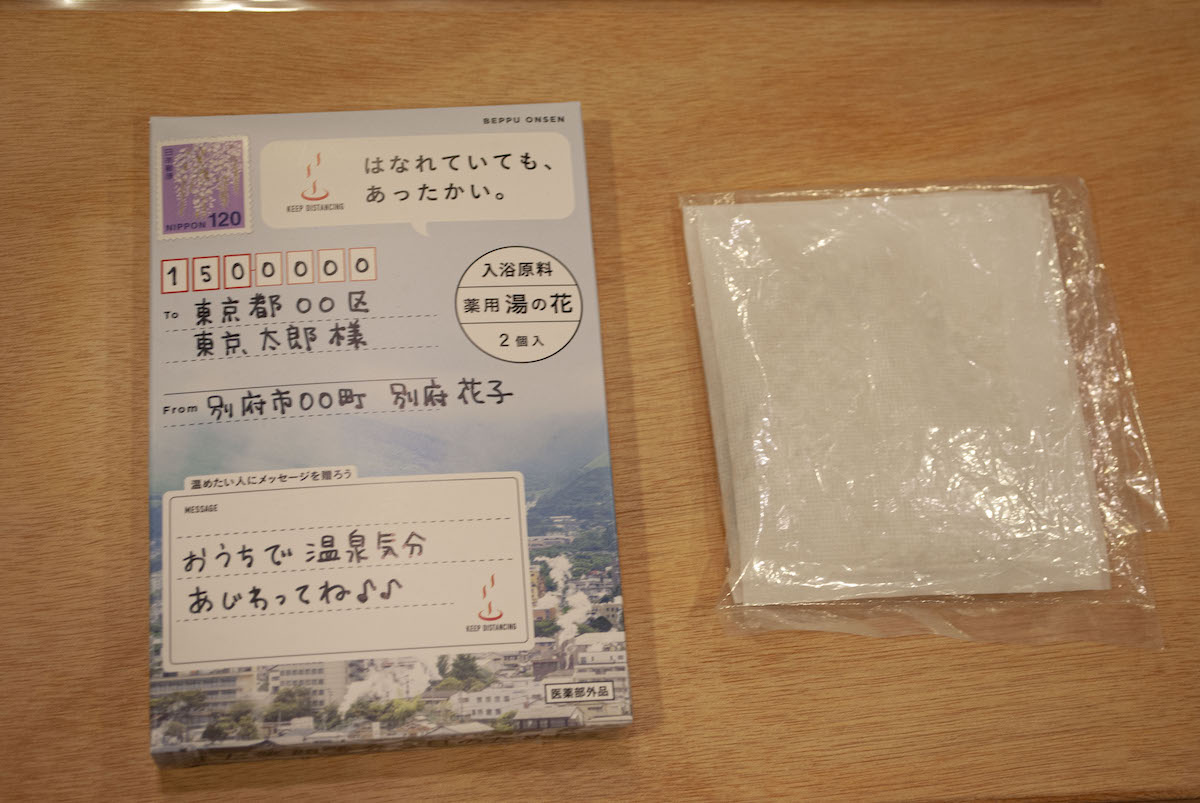 "For when we will be able to meet each other smiling again.
Because we are apart now, let's send messages from our hearts in "Yunohana Letters" attached to Beppu Yunohana."
At just 380 yen, you can enjoy Beppu Onsen at home. Inside the package are two uses worth of yunohana. To send it to loved ones, all you have to do is write their address on the box, put a 120 yen stamp on the front, and you're set! There is even space to write your own message! A part of the proceeds will be donated to the Beppu City New Coronavirus Infectious Diseases Omoiyari Fund.
All you have to do is place the package into a hot bath and you'll be transported to Beppu! You can expect to be effective against bruises and rashes, stiffness, neuralgia, eczema, inflammation, athlete's foot, back pain, rheumatism, and arthritis.
According to Chika Miura, these packages are incredibly popular. "We get many customers telling us that their friends and family were so happy to receive this gift," she says. As of March 2021, the city has sold around 4000 boxes already.
How To Purchase Yunohana Onsen Bath Salts
Yunohana is available for purchase online here. If you live in Beppu or find yourself stopping by this onsen town, you can pick up a few boxes at Wander Compass Beppu. The English-speaking staff are more than happy to accommodate.
*Please be aware that these Yunohana boxed are only available for domestic purchase and can only be mailed within Japan.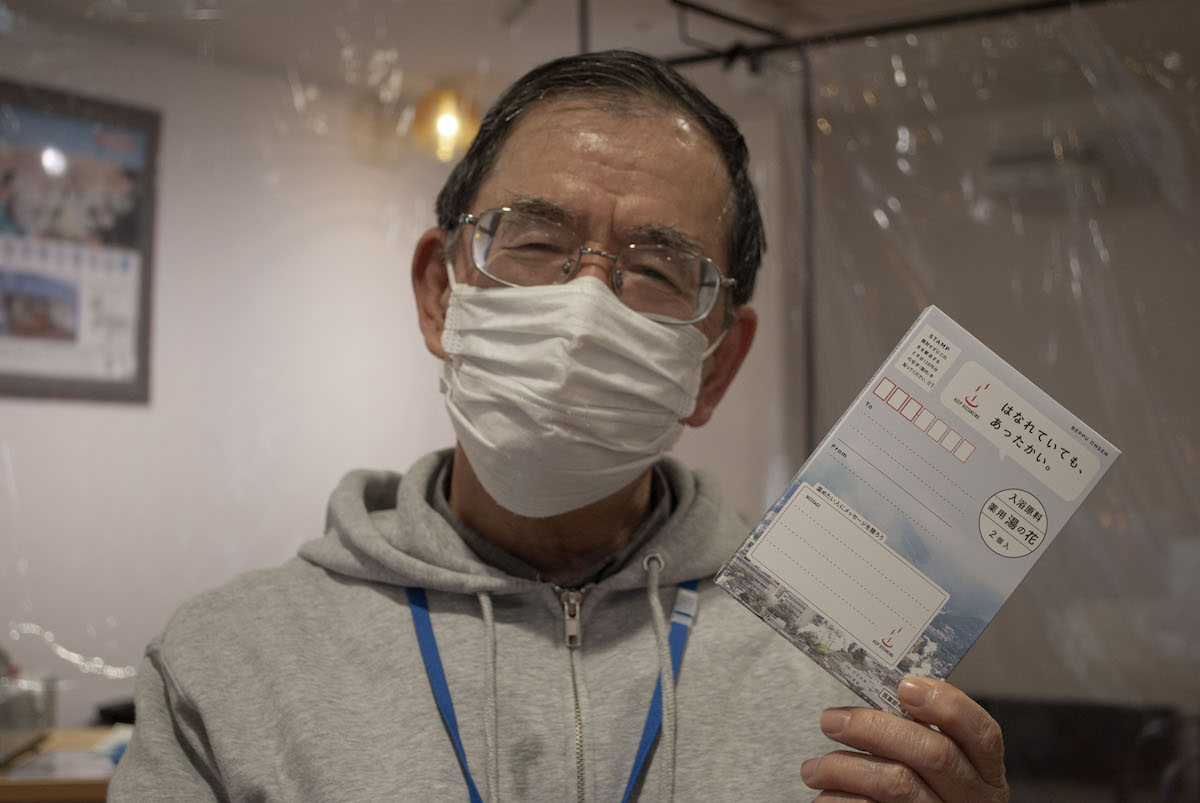 EnjoyOnsen