When driving up towards Myoban, it's hard to miss the huge pudding sign at the side of the road. If you've ever seen this sign you might have stopped by the infamous Okamotoya, an onsen food based restaurant. In this article we will be introducing the restaurant who created the one of a kind onsen steamed pudding, a must-try if you ever visit Beppu!
But before we review the food, let's take a deeper dive into the rich history of hot spring food!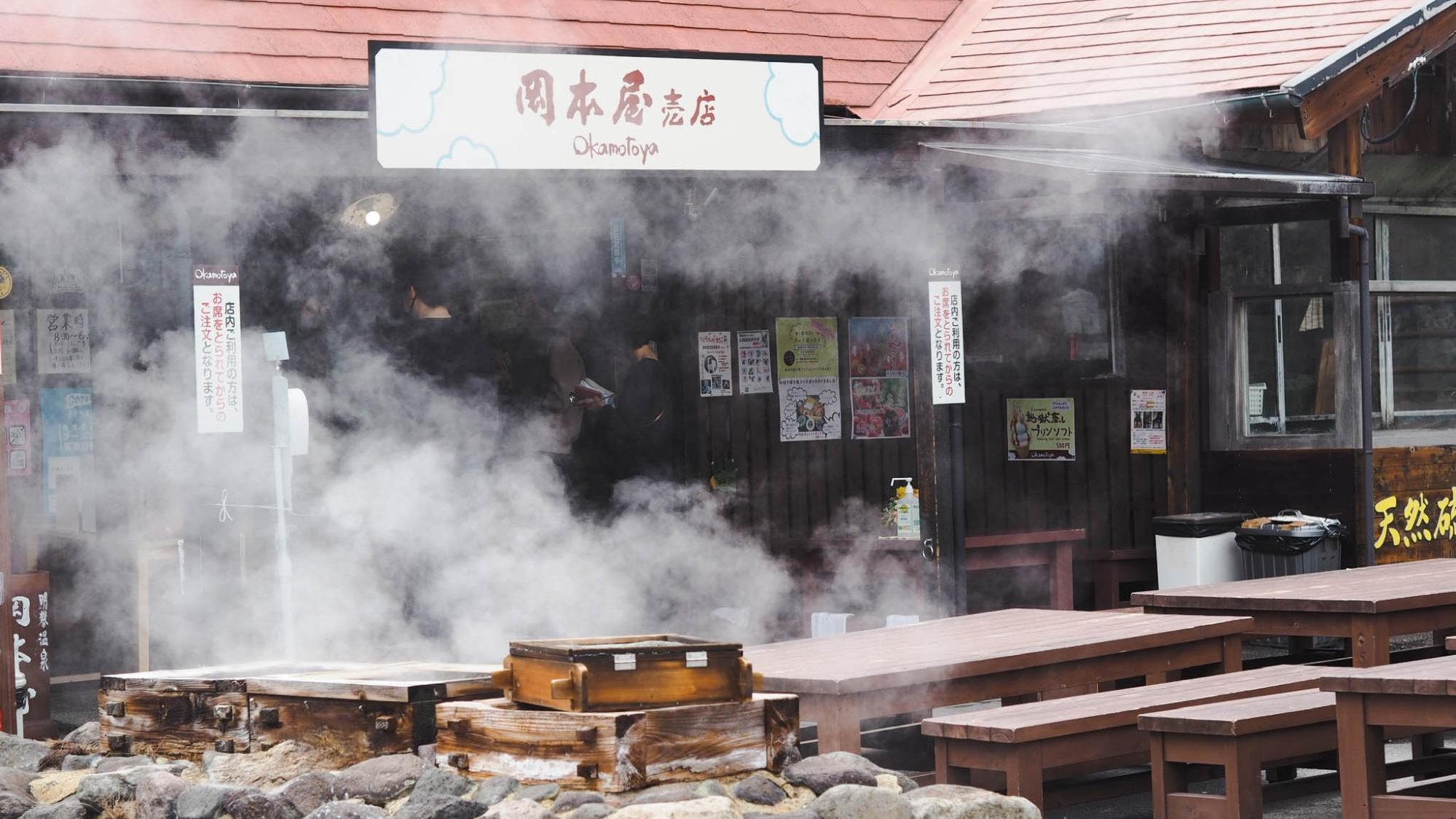 What is 'Onsen' food?
Jigoku-mushi (地獄蒸し), meaning "Hell-steaming", is an unique way of cooking that can be found in Beppu. Due to Beppu being Japan's largest hot spring water output, consequently dubbing it the 'Onsen city', the locals created a way to take advantage of the warm water for their cuisines. The cooking method was created before the Edo-period, and is considered very healthy as the food picks up the minerals from the hot spring.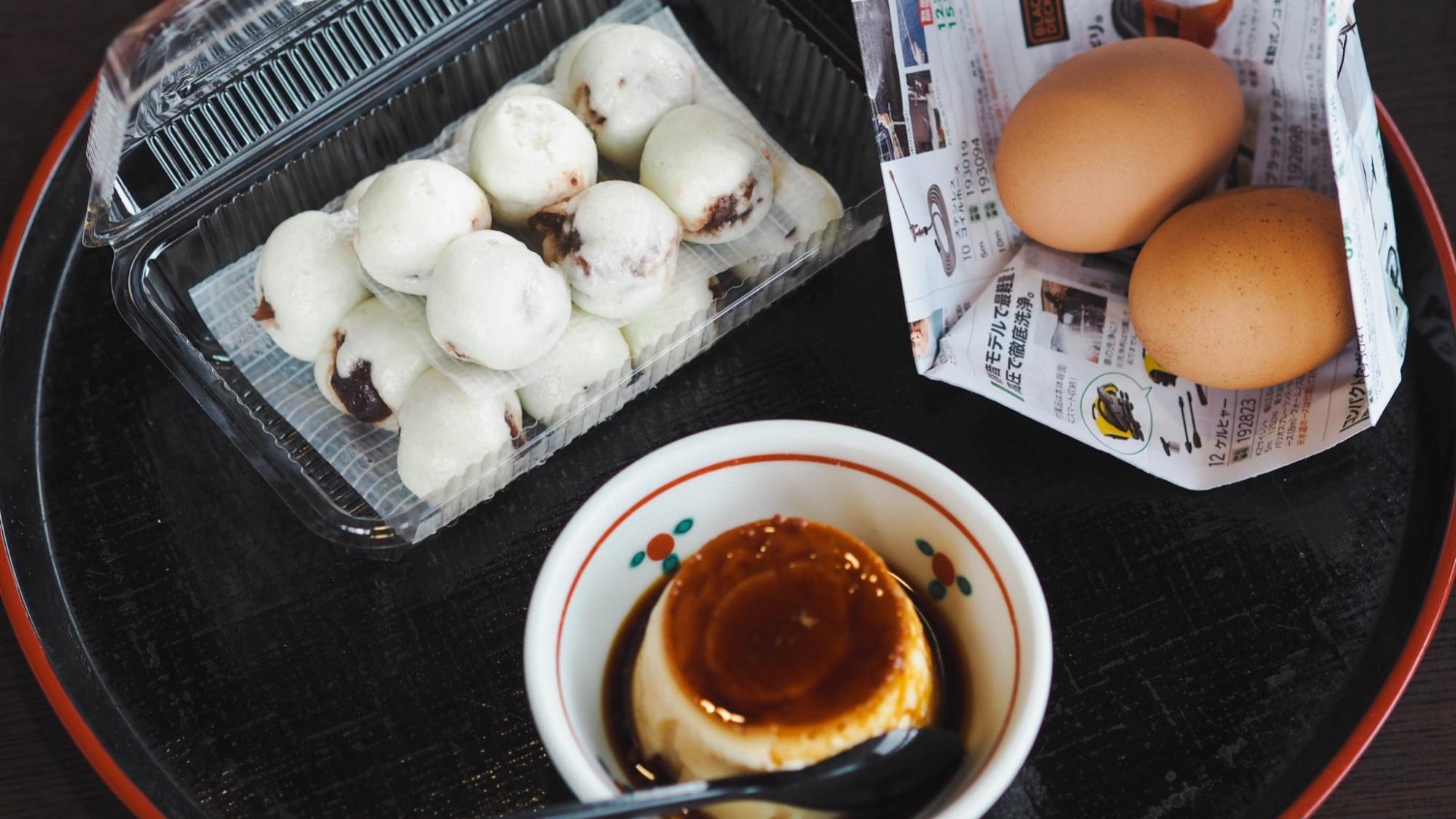 You can easily recognize Jigoku-mushi restaurants in Beppu by the hot steam set-ups called jigokugama (translates to 'hell pots') outside of the facility. These cooking spots are usually made of stone or concrete, and operate by using the hot spring steam from underground to cook the food. The food is prepared by placing it in a bamboo basket and then steamed with hot spring water, giving it a very distinct taste. Though the restaurant usually cooks the food for you, there are also a lot of places in Beppu where you can bring your own food and steam it yourself!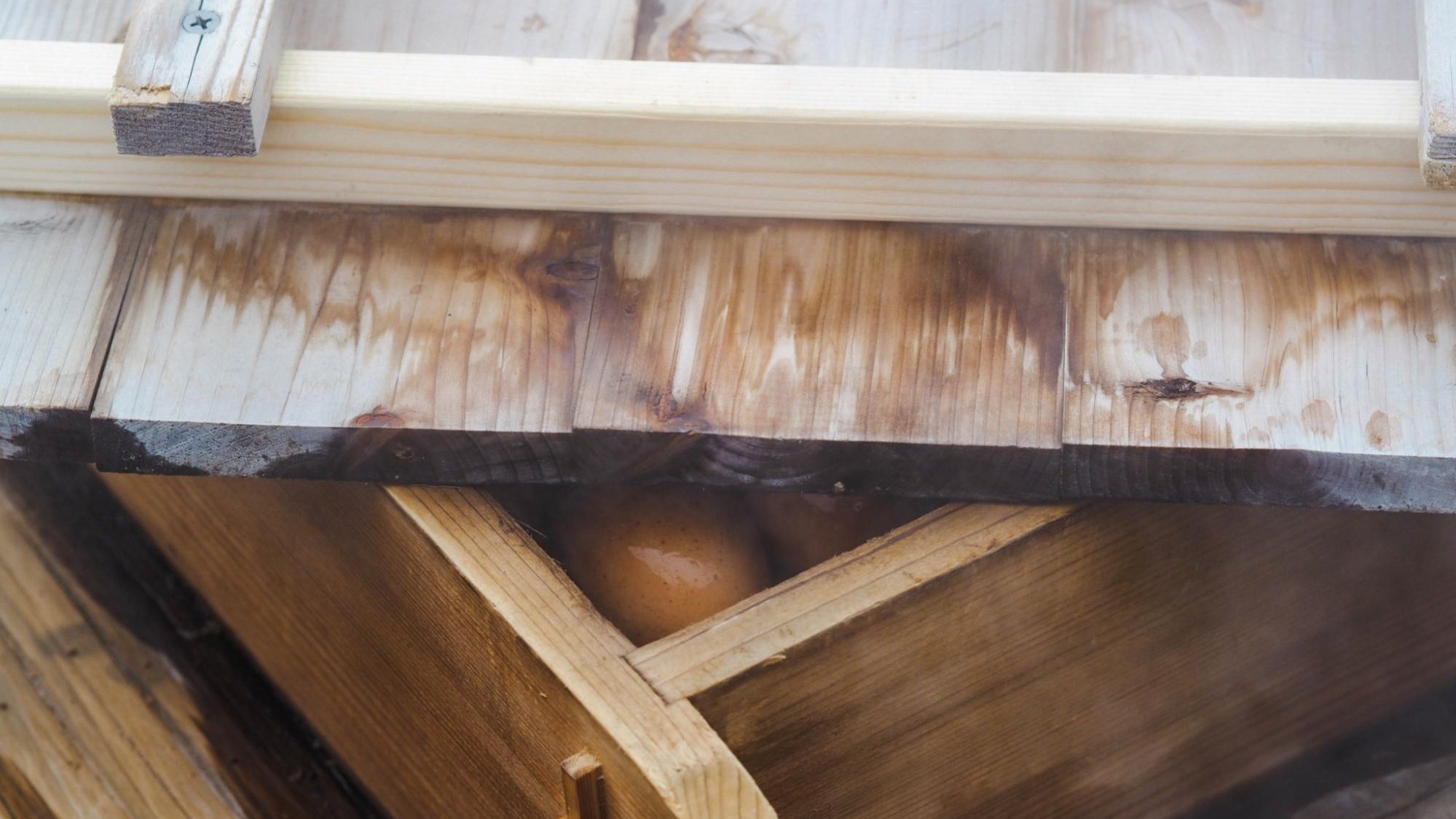 Hot spring steamed eggs
地獄蒸し塩たまご, or onsen-steamed egg, is one of the most common onsen-steamed foods you can find in Beppu. This is a staple in Jigoku-mushi and can be found in practically any onsen-steamed food restaurant and certain hot spring places in Beppu. In Okamotoya you can try the normal hot spring eggs which they have named Shio Tamago (salted egg), and also the more interesting-looking black eggs (黒たまご)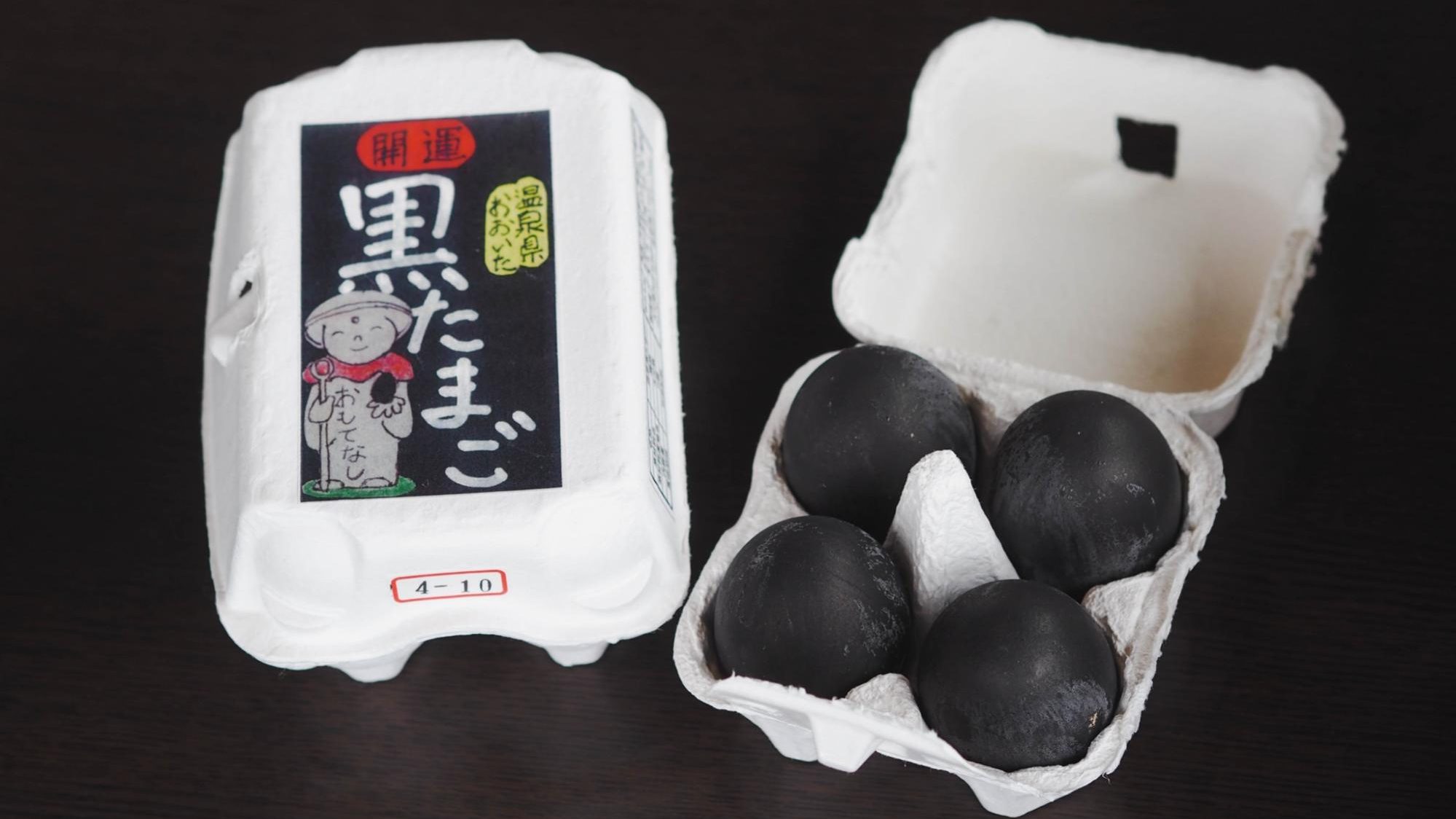 The salted eggs are one of the most common types of hot spring eggs you can find in town. They are cooked by being steamed in a bamboo basket and are usually served with either salt or soy sauce! If you want to try something more unusual, you can try the black egg which gets its color from being cooked directly in the hot spring. Because it's cooked using onsen water, you can really taste the delicious mineral flavor that Jigoku-mushi is famous for!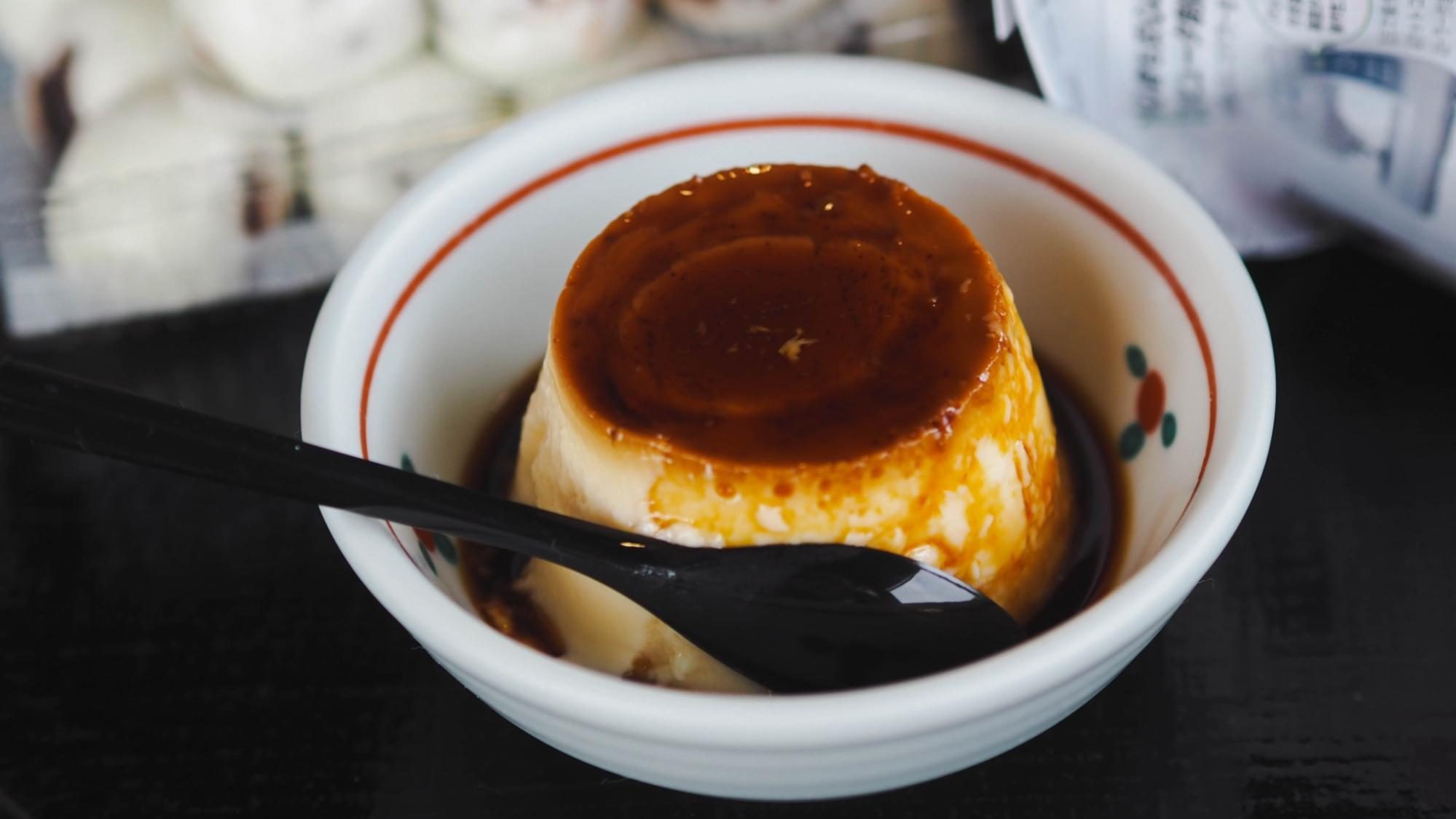 Jigoku-mushi pudding
One of Okamotoya's specialities is their original Jigoku-mushi pudding (地獄蒸しプリン). If you have never been to Japan you might not have had the chance to try Japanese custard pudding. Though custard and caramel sauce is quite a common pudding combination overseas, the Japanese version has more of a bitter taste then the western one, giving it a completely unique flavor!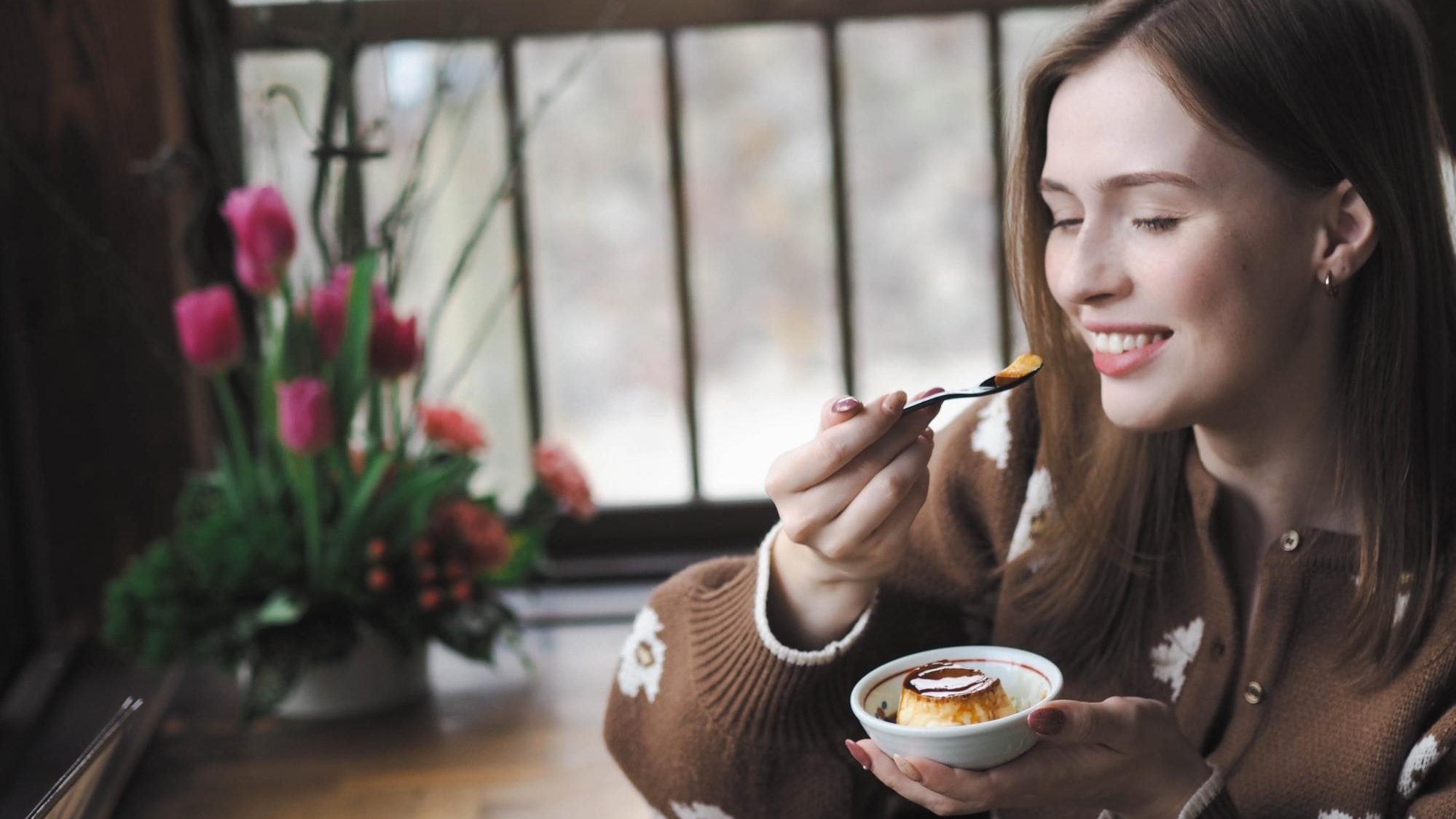 The bitter yet delicious jigoku-mushi pudding was created by Okamoyatoya through repeated research and has been served since 1988. Its unique flavor stems from the mineral taste that is picked by the hot spring-steamed eggs. If you happen to collect stamps for your 'Onsen passport', you will be delighted to know that Myoban Jigoku which is just in front of Okamotoya has a super cute pudding-shaped stamp! The jigoku-mushi pudding is a Beppu-only cuisine, so make sure to try it out when you visit!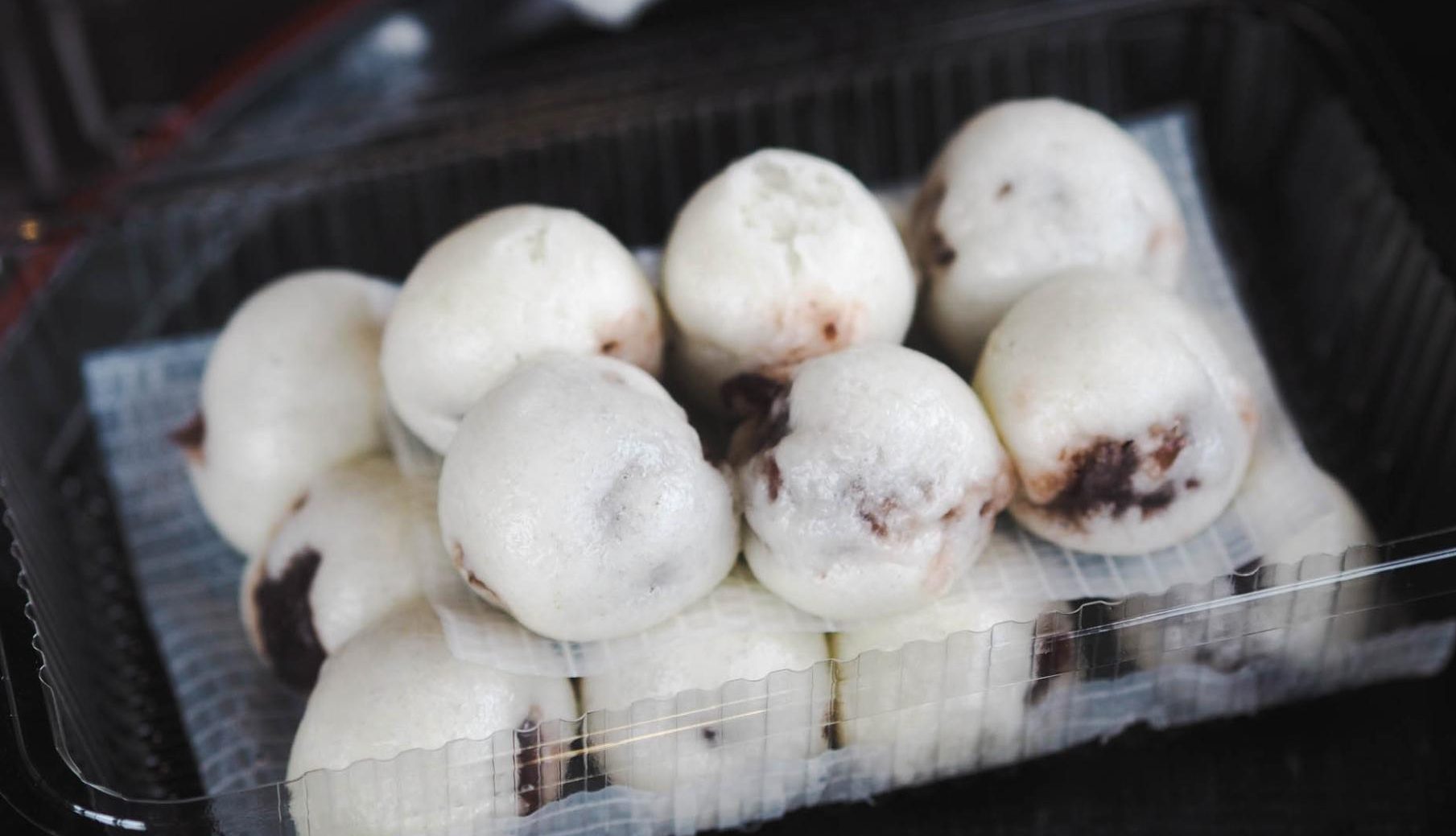 Yunohana Manju
Yunohana Manju (湯の花まんじゅう) is a tiny steamed bun with sweet red bean paste filling inside. The Yunohana Manju is steamed with hot spring water, making it even more fluffy than usual. The bun comes in both small and big sizes, and serves as a nice ending to a filling hot spring meal. This delicious dessert is perfect to buy as a souvenir or to eat while enjoying the beautiful view from Okamotoya's dining area!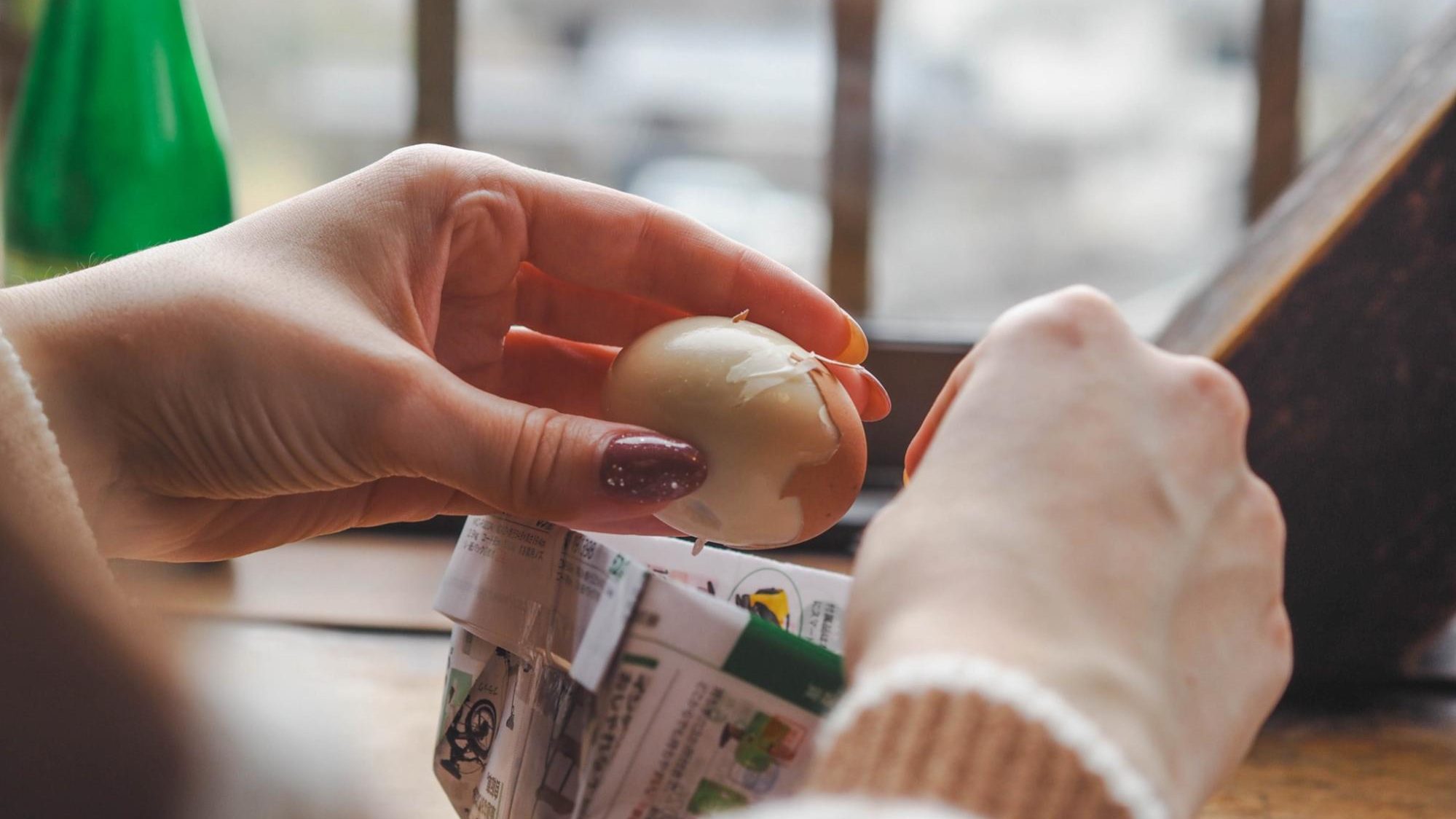 One-of-a-kind experience
Jigoku-mushi is a unique and delicious cooking method that you can only find in hot spring towns such as Beppu. Okamotoya has a long-standing tradition of creating new ways to make use of the natural hot spring water in Beppu, which is why it has become one of the most popular hot spots in town. No matter which food you decide to try at Okamotoya, it will be a unique experience you can't find anywhere else! Explore Beppu through the local food!
EnjoyOnsen