You've just spent a wonderful time in Japan's hot spring paradise, Beppu, basking in its gorgeous onsen, enjoying pristine nature, and savoring sublime local cuisine. Don't forget to bring back tokens of this magical experience that will help you relive the relaxation of Beppu's hot springs and indulge in the city's unique and delectable dishes even at home! With these top souvenirs from Beppu, you'll be able to immerse yourself in the wonders of Japan's city of onsen at any time!
Top Beppu Souvenirs You Should Bring Back Home
1. Yunohana Skin Care Products – Pamper Yourself With Myoban Luxurious Hot Springs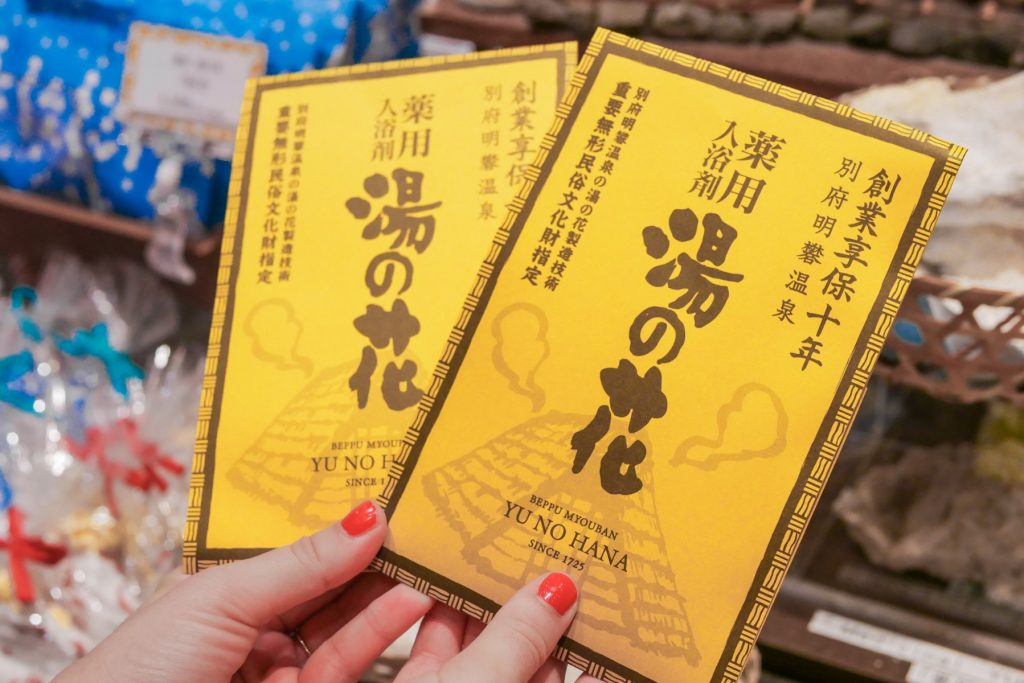 How about recreating the blissfulness of Beppu's onsen at home? The vast range of "yunohana" body care products produced in Beppu's Myoban area are the souvenirs for you! Nestled among the mountains of Beppu, the Myoban area is renowned for its milky blue hot springs and the production of "yunohana" minerals that are manufactured inside unique structures known as "yunohanagoya" thatched-roof huts, which can only be found in Myoban. Yunohana are made from beneficial mineral components from Myoban's hot spring steam and blue clay paving the huts. These precious minerals are collected, purified, and dried in the yunohanagoya over a period of 40 to 60 days before being used in a wide variety of products.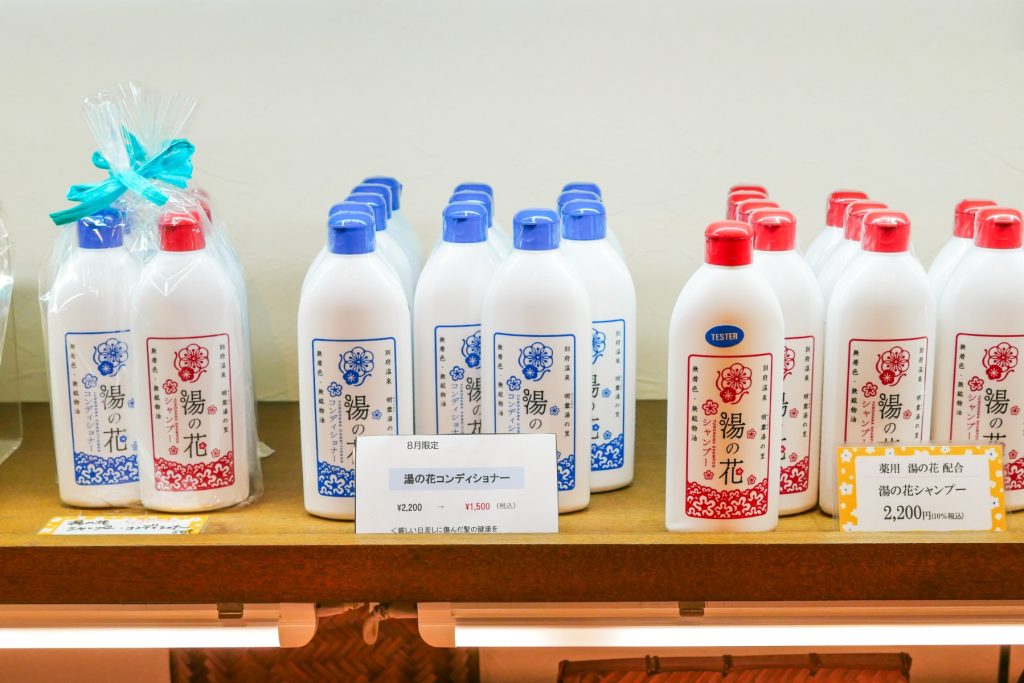 Add to your bath some "Yakuyou Yunohana Nyuyokuzai," medicinal bath salts made from yunohana minerals, and you'll be able to reproduce the feeling of Myoban's fantastic onsen almost as if you were bathing in real hot springs.
Looking to improve your skin's condition? Myoban's hot springs are believed to work wonders on the skin. The vast array of body care products available for sale includes body gels, hand creams, sunscreens, face masks, and more – name it and they probably have the right product to tackle your concerns. The "Yunohana Soap" adds the benefits of medicated charcoal and deep ocean water to those of yunohana for a beautiful moisturizing effect. The highly mosturizing "Yunohana Mist Spray" can even be applied over makeup to help prevent dry skin and skin irritation. Containing yunohana, hyaluronic acid, and collagen, the "Yunohana Massage Salt" is the go-to product when you want to pamper yourself. They even offer a line of hair care products that gently remove dirt on the scalp and create healthy and shiny hair while giving a refreshing feeling after use.
2. Kabosu Green Tea – Japan's Finest Green Tea With a Twist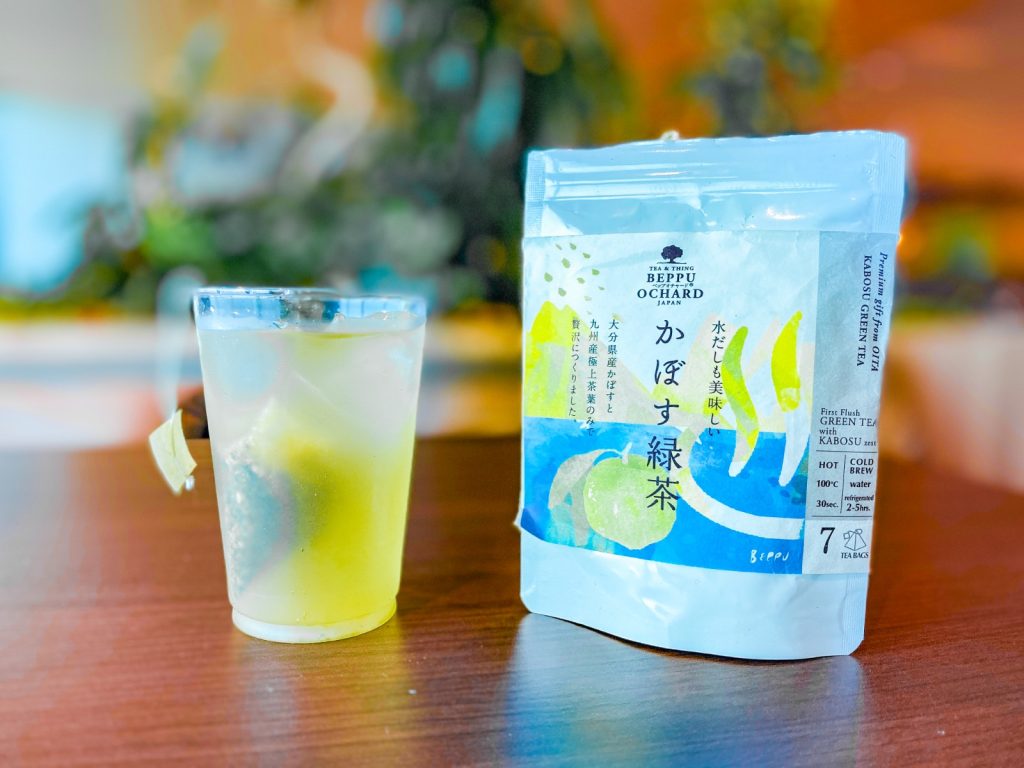 There's no flavor associated with Oita Pefecture, where Beppu is located, more than that of "kabosu," a local citrus fruit used for many different beverages. The "Kabosu Green Tea" is a well-balanced blend of this beloved fruit and high-quality green tea sourced during the first tea leaf-picking of the year from Beppu's long-established tea shop Maruniya. No sweeteners, flavorings, or preservatives are added, so it is purely characterized by the natural refreshing aroma of kabosu and delicate sweetness of green tea. Great for relaxing at home or as a gift, the Kabosu Green Tea can be enjoyed both hot or cold. When brewed with hot water, it acquires a deep mellow flavor, while when brewed with cold water, its sweet taste becomes even more refreshing.
3. Kushi Dango – A Local Sweet Treat With Lovely Onsen-Inspired Packaging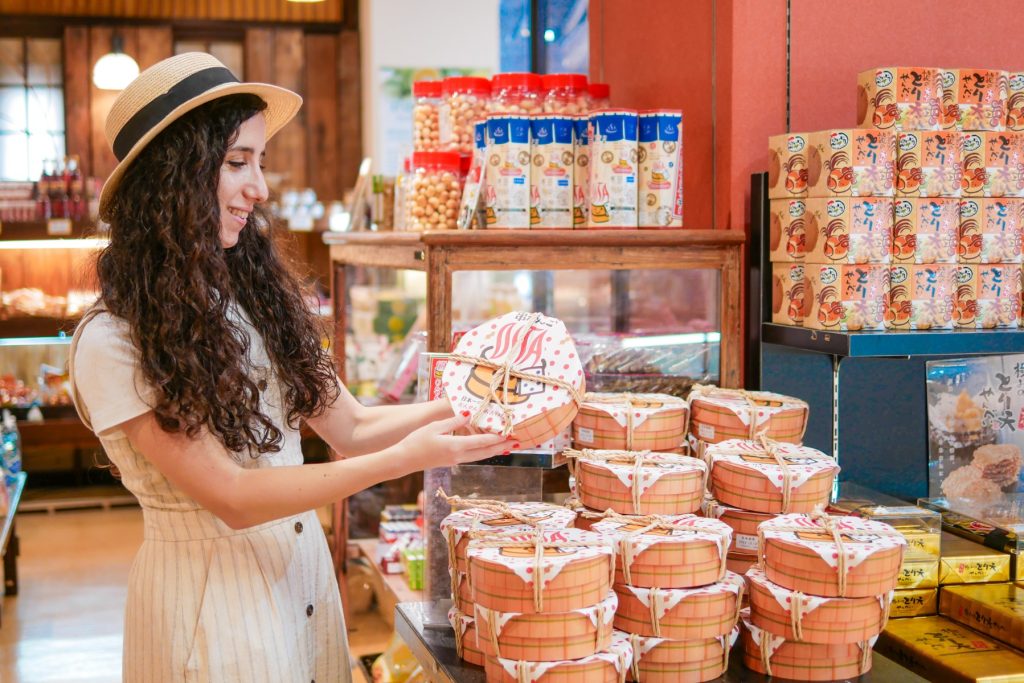 With its irresistibly cute packaging inspired by hot spring washbowls, this adorable souvenir will instantly remind you of your time in Beppu! Not only is it a fun way to bring back memories of your time soaking in gorgeous onsen, but it's also perfect as a gift for family and friends.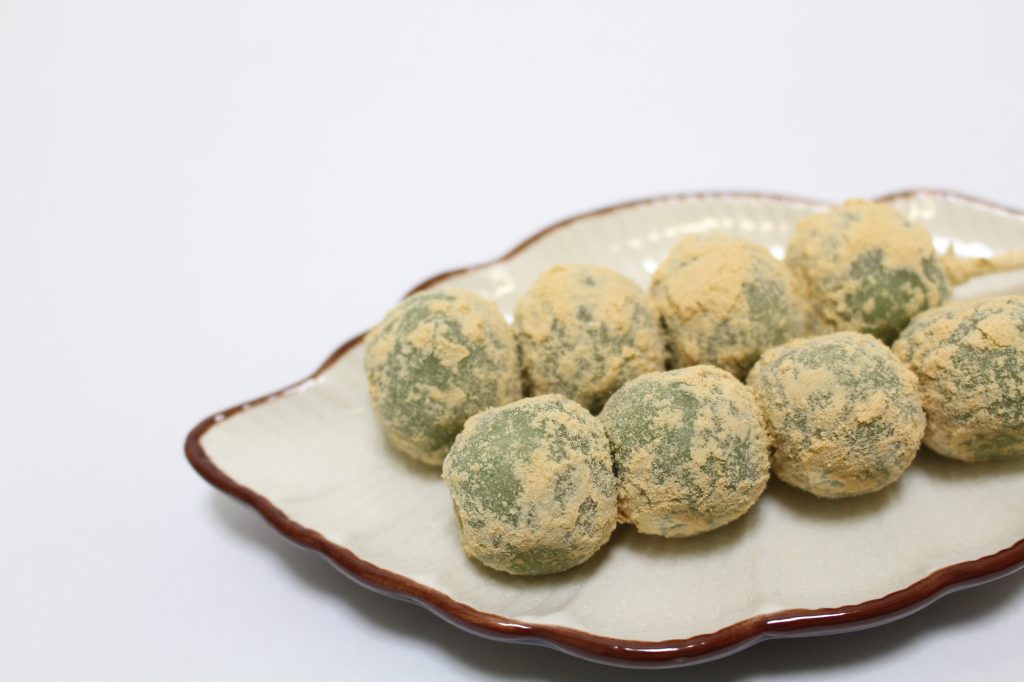 You'll be even more drawn to it when you find out what inviting delicacy is inside, waiting to be unwrapped! Covered with fragrant "kinako" soybean flour and enriched by the subtle herbal aftertaste of "yomogi" Japanese mugwort, "kushi dango" are skewered rice cakes filled with red bean paste. They are a specialty of Beppu. Exquisitely chewy, they are surprisingly refreshing thanks to the mugwort contained in the dough, while the bite size makes them easy to eat, so they're a great quick snack to share with others!
4. Kabosu All-Purpose Seasoning – Spice Up Your Dishes With Beppu's Beloved Citrus-Flavored Spice Mix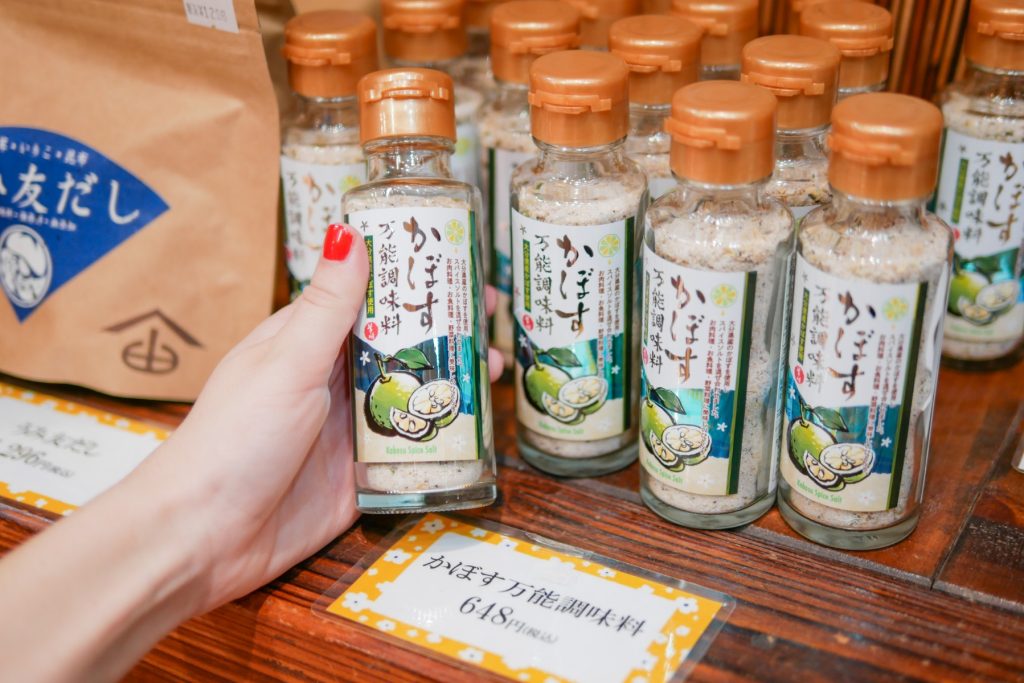 Not only suitable for different types of drinks but also great as a seasoning, kabosu is a versatile ingredient. Not only is the "Kabosu All-Purpose Seasoning" the perfect size to pack in your suitcase, but it also pairs greatly with a lot of dishes, whether it be meat, fish, or vegetables. Just sprinkle it on top of your favorites and you'll find that this aromatic spice mix is a delectable addition to any type of preparation, and its citrusy and refreshing aroma can turn the most common of foods into something extraordinary.
5. Shiitake Mushroom Tea – A Unique Type of Tea that Will Enchant Your Tastebuds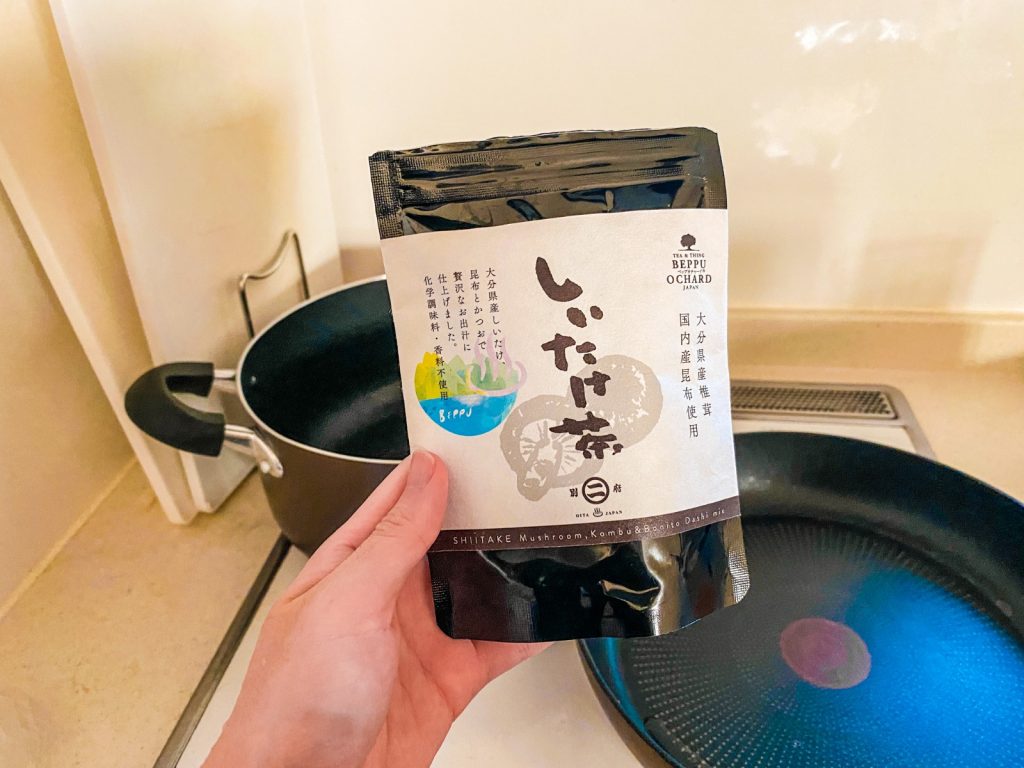 Locally sourced and delicious, shiitake mushrooms can be used in many different ways, but it might come as a surprise that in Beppu they're even dried together with kelp and bonito flakes to prepare a healthy type of tea called "shiitakecha." Tasty and incredibly fragrant to drink as-is, this unique variety of tea can be also employed to cook a wide range of dishes such as "ochazuke," hot pot and simmered dishes, soups, and even mushroom pasta, which makes it extremely popular as a souvenir!
6. Beppu Reimen – Savor the Authentic Taste of Beppu At Home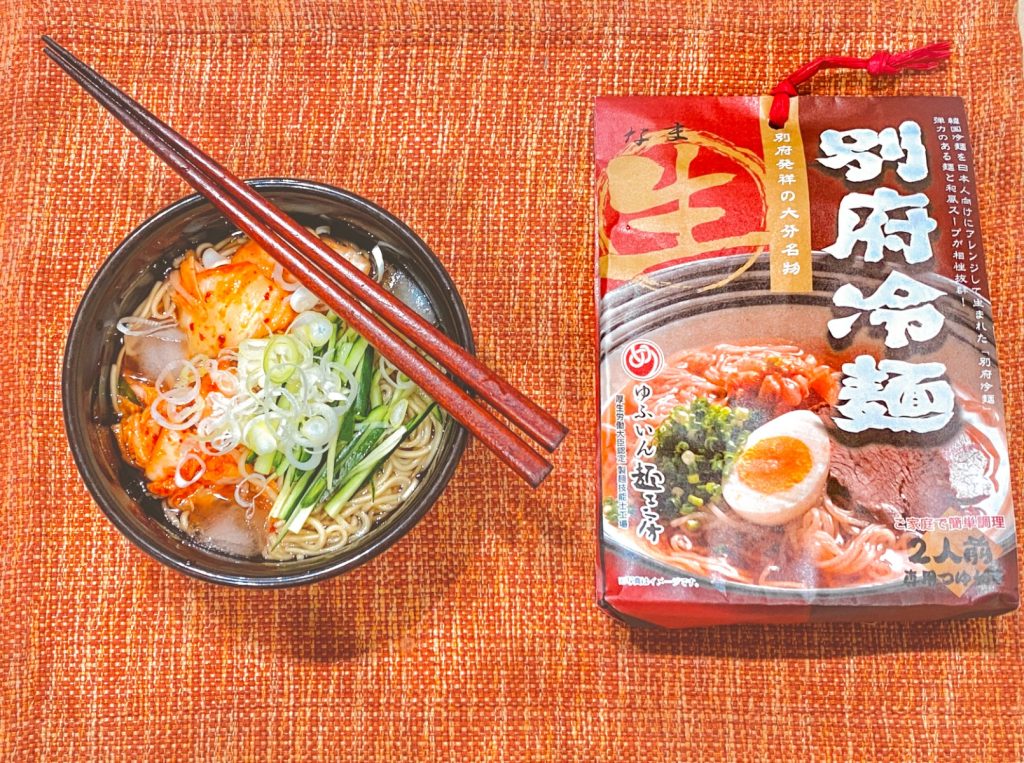 Beppu's most iconic dish, Beppu reimen, has proved that cold, spicy noodles complement a soak in the onsen surprisingly well! Inspired by Korean cold noodles but adjusted with Japanese elements through the course of time, this recipe is synonymous with Beppu. Foodies who explored the culinary scene of the city will surely want to grab a box of this conveniently packaged reimen and bring them back home to immerse themselves in the wonders of Beppu once again. Recommended toppings include kimchi, boiled eggs, and grilled pork, but you can always garnish them with whatever you fancy.
7. Hot Spring Steamed Jam – A Unique Jam Prepared By Hell-Steaming, Beppu's Traditional Cooking Method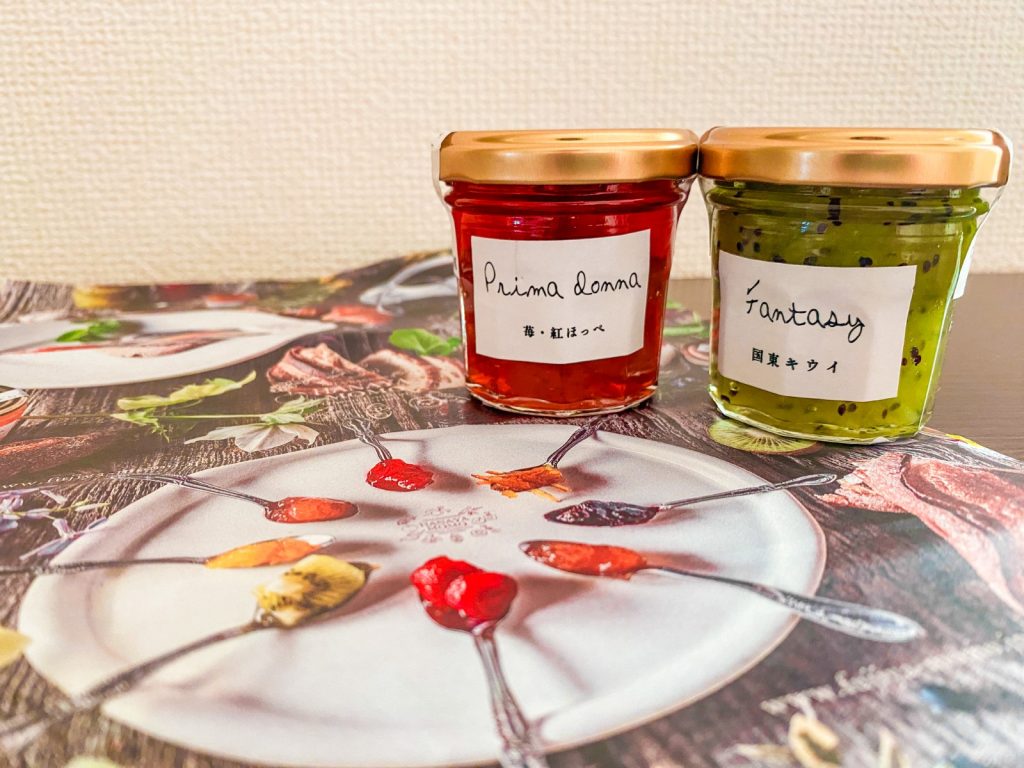 Due to it being one of Beppu's main onsen areas, the historical neighborhood of Kannawa is renowned for the spectacular trails of steam floating in the air. Here, visitors have the opportunity to savor one of Beppu's distinctive cooking methods: "jigokumushi ryori" ("hell-steaming") cuisine, which has been practiced since the Edo period (1603 – 1868) and consists of harnessing natural hot spring steam to cook a wide range of ingredients in "jigokugama" ("hell pots") stone steamers. These unique jars of jam made in Kannawa are carefully steamed at low temperatures using this traditional method, allowing the fruit to preserve its freshness and fragrance. Coming in different flavors such as Japanese summer orange and lemon, Japanese plum, kabosu, and more, the jam is enriched by succulent chunks of fruit and is great even when used as cooking sauce or salad dressing.
3 Recommended Shops in Beppu for Your Souvenir Shopping Spree
1. Myoban Yunosato Shop – Stock Up on Beppu's Premium Skin Care Products and Local Treats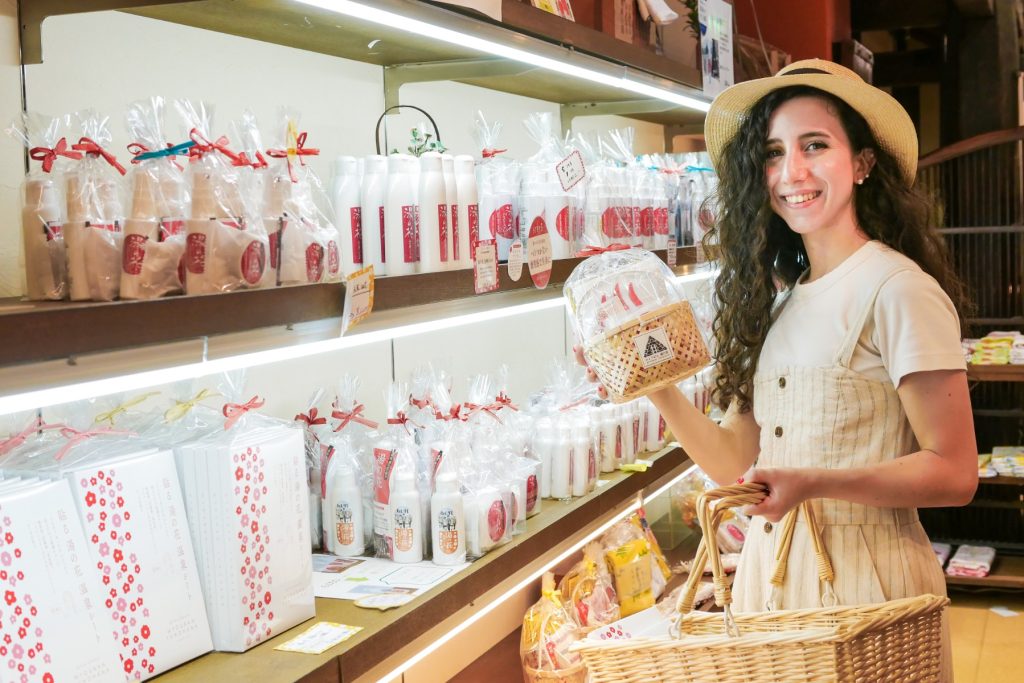 Located in one of Beppu's most beautiful onsen areas, the Myoban Yunosato Shop is a great place for grabbing local souvenirs, as it sells a wide variety of original products made from the local yunohana and other original goods that can't be found anywhere else, and even some of Oita Prefecture's specialty products. With towels and washcloths, cutely packaged soda, confectionery and local treats, and more, the shop keeps an ample stock of Beppu's best souvenirs. They are particularly famous for their yunohana body care products, so don't miss the chance to stock up on those.
The shop is just a few steps away from Myoban Yunosato's gorgeous public and private onsen as well as its many yunohanagoya huts, making it the perfect place to stop by after a soak in the onsen or a visit to the area!
2. SELECT BEPPU – A Select Shop Featuring Works by Local Artists and Craftsmen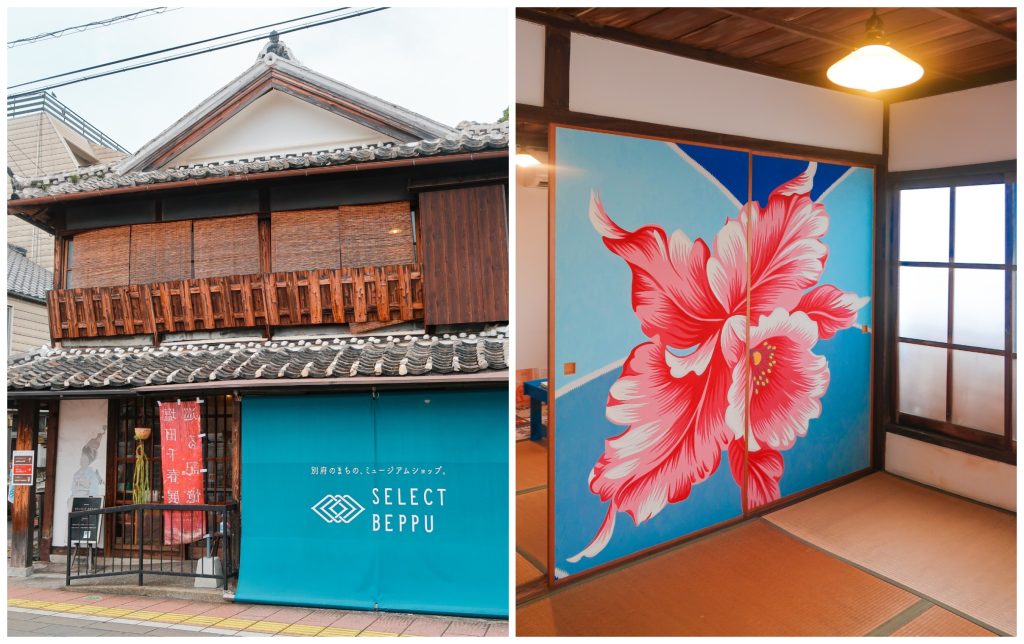 Housed in a 100-year-old traditional building in the center of Beppu, this curated select store displays a wide range of works and products created by artists and craftsmen with ties to Beppu on the first floor and a gallery with splendid "fusuma" (sliding doors) paintings on the second floor. Unique not only in appearance but also concept, the shop almost feels like a museum where travelers can experience the artistic side of Beppu and find the most surprising souvenirs! These include lovely bamboo basket bags that are handmade in Beppu and inspired by the local ages-old craft of "takezaiku" bamboo weaving, adorable stylized postcards inspired by Beppu's landmarks, and many more delightful souvenirs.
3. Oita Airport – Last-Minute Shopping for Beppu's Best Souvenirs, Conveniently Gathered All in One Place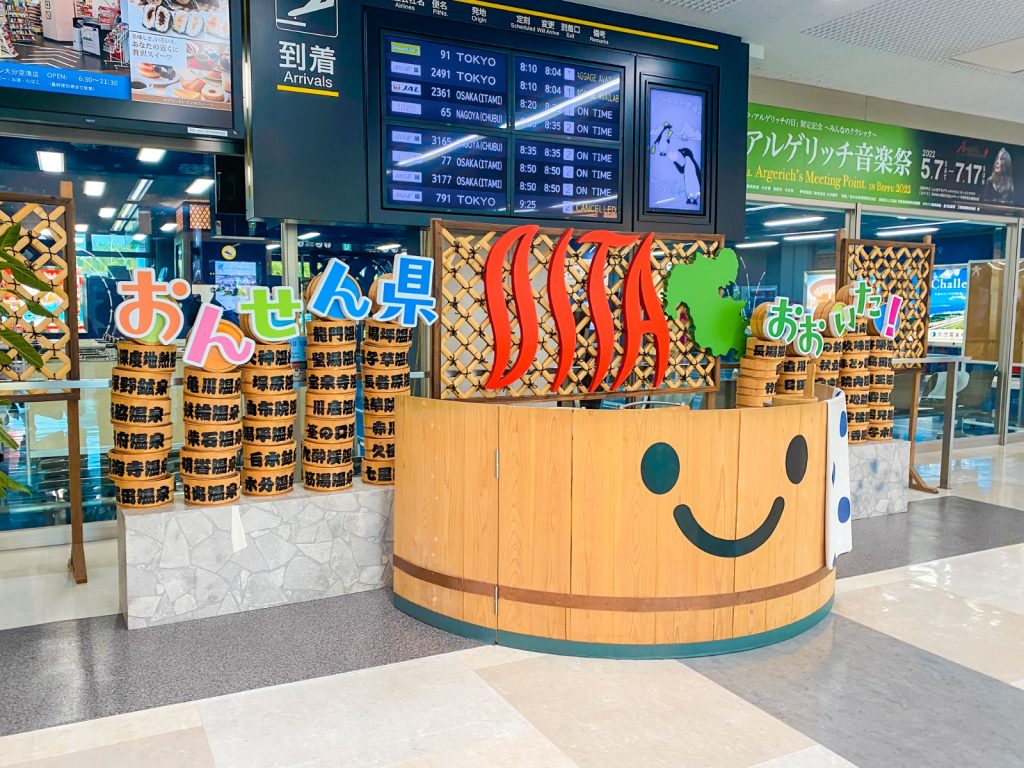 Looking to do some last-minute shopping? Oita Airport is a great place to find anything you might have forgotten to buy or some exciting souvenirs conveniently gathered all in one place. Offering most of the best of Oita Prefecture's products, the different souvenir corners provide a selection of around 3,000 items, including sweets, foods, sake, and classic souvenirs such as magnets and t-shirts.
Immerse Yourself in the Wonders of Beppu, Even at Home
Gorgeous hot springs and a distinctive culinary culture are what make Beppu so charming. Although it may be difficult to leave after experiencing these wonders, with these lovely souvenirs, you'll be able to enjoy bits of its charms even at home!
*Since each country has different restrictions, please make sure that the items you wish to take home are not prohibited before purchasing.
tsunagu japan