It's been a while! I'm Zumi and currently working as a Wander Compass Beppu (the tourist information center at Beppu station) intern since September. It's getting cold recently, isn't it? Winter is almost here. Anyway, did you read the previous article that I wrote? In the last one, I wrote an article on the theme of "people" as the attraction of Beppu. In October, I didn't only work at Wonder Compass Beppu (hereinafter called WCB) but also guide guests from overseas with my own model route based on the theme of "people of Beppu." I would like to write about what I felt at that time and what attracted me to the people. Before I get into the main topic, let me say it. The people of Beppu are the best!


Mr.Saruwatari at Kifune Castle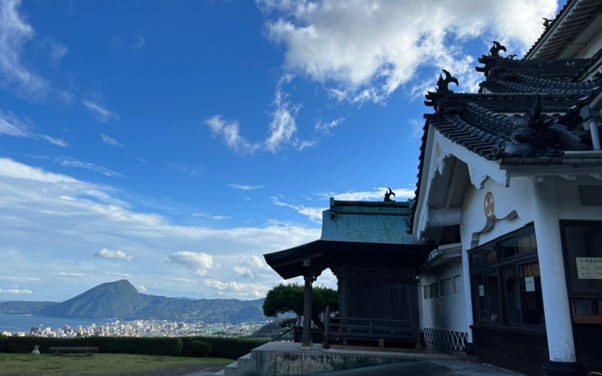 One of the places that inspire me in Beppu is Kifune Castle. Kifune Castle is the only castle in Beppu city, located near Kannawa. It is the oldest fortress castle in Japan with beautiful scenery, and a white snake that is worshipped as a God. And the main highlight of all is Mr. Saruwatari! Yes, he is a staff member of Kifune Castle. Whenever you come to Kifune Castle, Mr. Saruwatari welcomes you with a smile and energy. I wanted to introduce Mr. Saruwatari to our overseas guests as well, so I decided to visit Kifune Castle on the tour.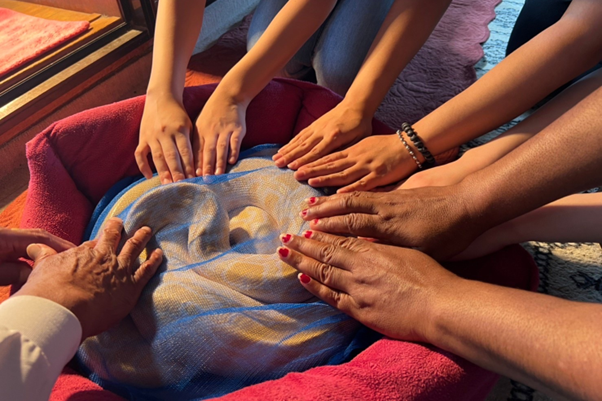 First, we entered Kifune Castle to meet the white snake. Some of us were afraid to even look him in the eye, while others were brave enough to touch him. After that, we went to the observation deck on the third floor to see the beautiful view, and I love Mr.Saruwatari's guidance which he said in English, "You go to the second floor, the third floor and from the observatory deck, Super view is waiting for you! " It's a somewhat cheerful guide that I want to record and play for everyone to hear. When you go to the observation deck, you get a panoramic view of Beppu. Like this! I could even see Ritsumeikan Asia Pacific University, the university I'm currently in.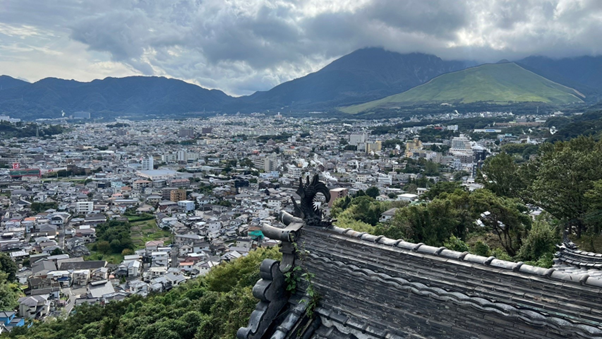 Mr. Saruwatari's hospitality continued even after we went back from Kifune Castle. He took pictures for us and talked with us. It was a very enjoyable time. And when we left, he waved at us until he couldn't see us anymore. How kind he is! When you come to Kifune Castle, you will get power not only from the white snake but also from Mr.Saruwatari. I hope you will visit there, too!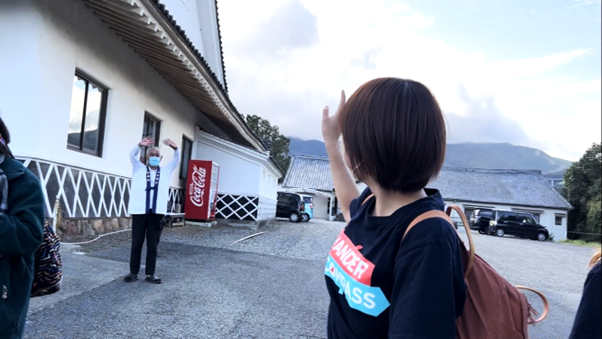 The staff of Kamado Jigoku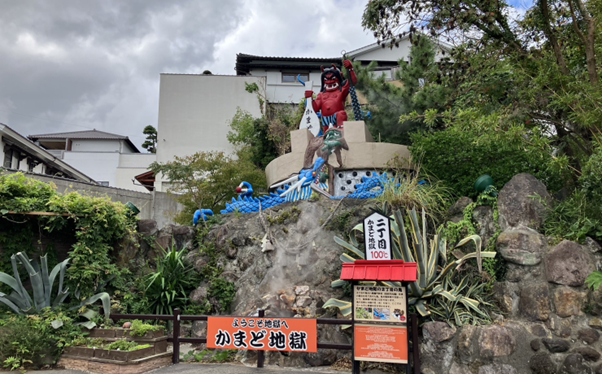 The second place in Beppu where you can cheer yourself up is Kamado Jigoku. Kamado Jigoku is one of Beppu's 7 Hells tours, and you can see such a beautiful hot spring. There are many fun things to do in this hell, such as drinking hot spring water, experiencing natural steamers, footbaths, and hot spring eggs. (Try the hot spring eggs with Kamado Jigoku's original kabosu soy sauce for the best taste!) And the reason why I love Kamado Jigoku is because of the people. The staff is all so kind!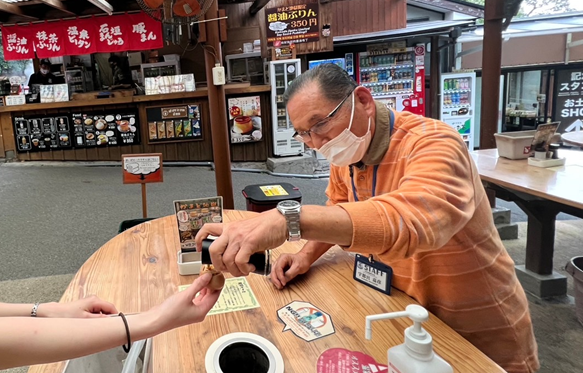 In Kamado Jigoku, the staff will show you magic to make the steam rise. The guide at that time is just like an amusement park! The staff at the stores and foot baths also cheerfully talk to you. When I buy hot spring eggs, the chairman sometimes talks to me. "Here! Try this kabosu soy sauce on it! Isn't it delicious? This is our original! Oh, take a footbath too! Here's a towel!" The chairman is very jovial.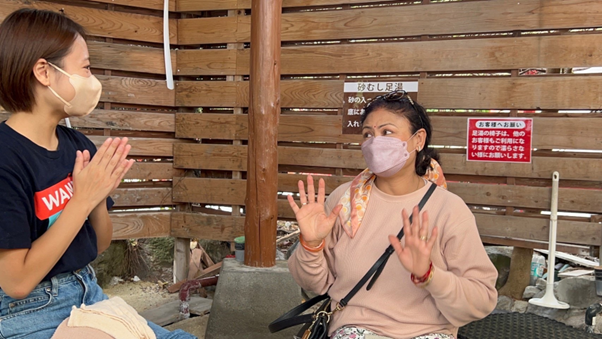 When I visited Kamado Jigoku with my guests, they welcomed us with their wonderful hospitality as usual. When I asked our guest, "How was Kamado Jigoku?" They replied "It was great! They are very nice people." They seemed to be very satisfied. The kindness of people comes through even though the language is different.
Plants connect Beppu and home country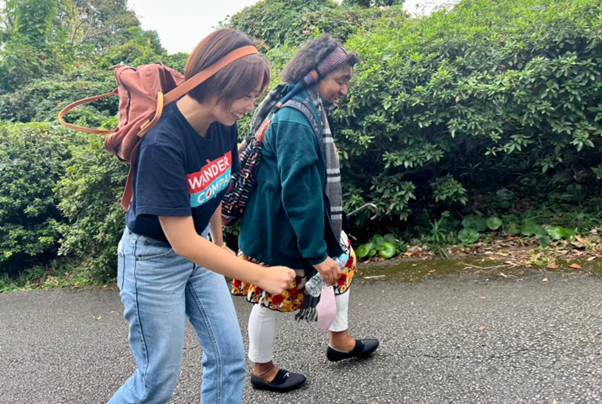 When I walk around Beppu with the guests from overseas, I get a perspective I never had before. I had many times that I was surprised by what they got interested in and where they stopped. I was particularly impressed by Mrs. Doriga from Papua New Guinea, who joined us on my first tour with guests.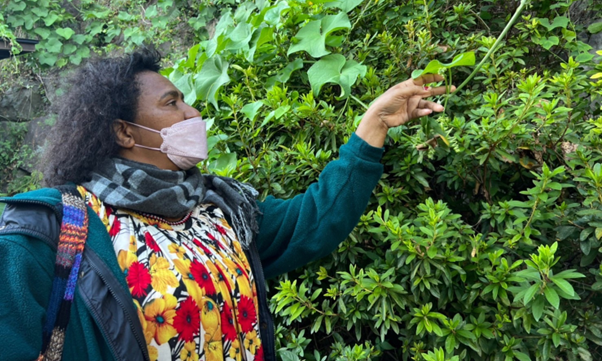 Whenever Mrs.Doriga and I walked around Beppu, she always stopped at the place where she could feel nature, such as plants or a river. She would say, "This plant is in Papua New Guinea too!" or "If you take this flower and put it in your pocket, it can be used as a perfume. We use it in Papua New Guinea." There were many moments when the guests felt a connection between their home countries and Japan. I was very happy to know that we are living on the same planet, even though we are from different countries.
Foot baths made our bodies and heart warm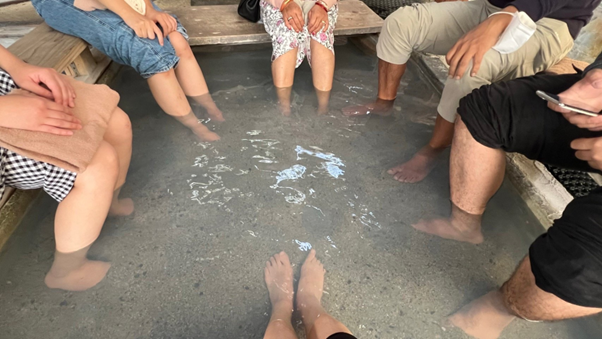 One thing that I have found to be common among all of the guests I have walked around Beppu with is that they enjoyed the footbaths. A married couple from Nepal, who were my first guests when I organized my first tour, became quite close to me after we talked during the footbath at Kamado Jigoku. I also had a tour and talked with Amanda, who is from Italy. After steamed cooking, while taking a footbath and enjoying the view, we learned about each other's hobbies and interests. I think that a relaxing foot bath helps to relax not only the body but also the mind and brings you closer to the person you are talking to. I wonder if the people of Beppu are warm because they are relaxed in the hot spring.
Finally…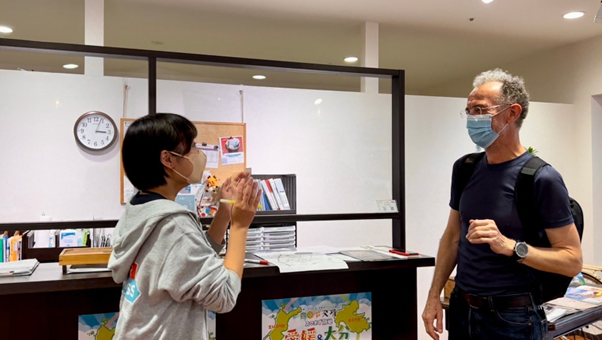 Since I started my internship at WCB, I have gained many assets, including people I would have only met here and things I would have never been interested in. The other day, I had visitors I guided by writing. At that time, I was frustrated with not being able to communicate even with "Thank you" in sign language. After that, I learned a few signs that I could use to introduce myself and guide visitors. If I had not met the visitors, I would not have had the opportunity to learn sign language. In this way, there is much to learn through new encounters, and everything is a new adventure. I look forward to talking with new guests shortly soon, and I will continue to do my best for the remaining three months.
See you in my next post and at WCB as well!
EnjoyOnsen