Hi! I'm Zumi from Ritsumeikan Asia Pacific University(APU). I've been working at Wander Compass Beppu (the tourist information center ) as an intern since September. In this article, I'd like to introduce wonderful people in Beppu that I've met through my work at Wander Compass Beppu(WCB) and walking around Beppu. It's only been one month since I started working at Wander Compass Beppu, but there are lots of precious encounters.
At Wander Compass Beppu, there are many tourists coming to Beppu from all over Japan and the world. There're many types of trips such as family ,couples and of course solo travelers. At this time, let's look back at my memory of an APU student from Belarus.
APU student form Belarus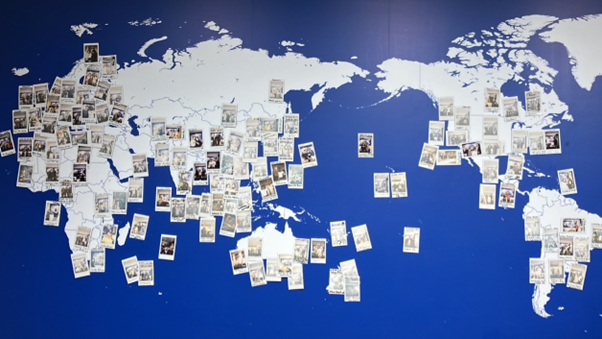 The APU student from Belarus was my first English-speaking visitor. I was a little worried about my English skill. He said that he'd like to go to Mt. Takasaki but doesn't know Beppu that well since he just recently came to Beppu. After talking with him, I discovered that he had just arrived at Beppu for the first time and wanted to go around Beppu ,but freaked out. I know that there are many worries about being in a completely different environment from home country. In the end, he purchased the tickets to Mt.Takasaki(monkey park) and Umitamago(aquarium). In the small talk with him, he also wanted to walk around Beppu another day. Therefore, I gave him an English map of Beppu area. Then, he said, "Thank you so much. You saved my life" with a big smile on his face. I was surprised and happy at the same time to know that a little care can make people smile.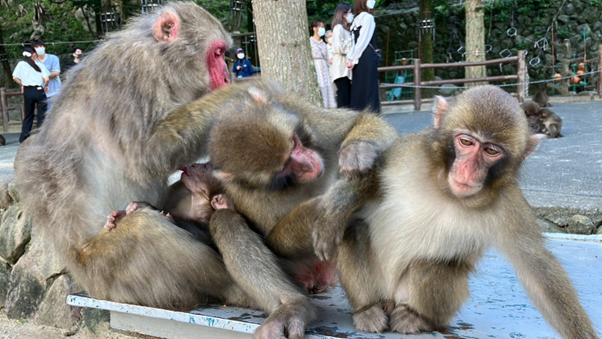 Through talking with many visitors at WCB, I found a way to make them smile. What usually happens is that throughout the conversation, I gain knowledge about their interests which allow me to share information that they did not think to ask yet turns out to be a great addition to their travel plan. I am sure that I will have many encounters with various guests in the future. When that time comes, I will guide them with care like this and a smile! Please come to WCB (Wander Compass Beppu) if you need help with sightseeing in Beppu!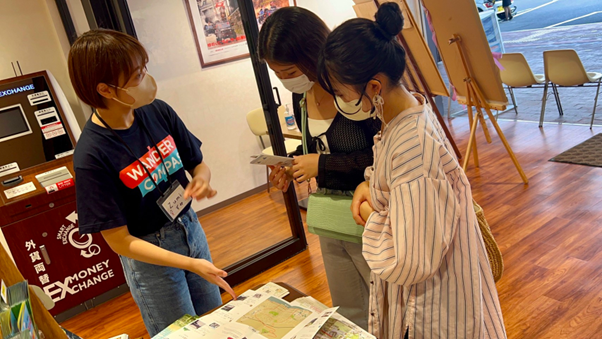 From here, I'll talk about the people I met through walking around Beppu. When it comes to Beppu, you might be familiar with "Onsen". First, I'll introduce Mr.Tsunematsu, the owner of Yuyama-no-sato who built the onsen.
Mr.Tsunematsu at Yuyama-no-sato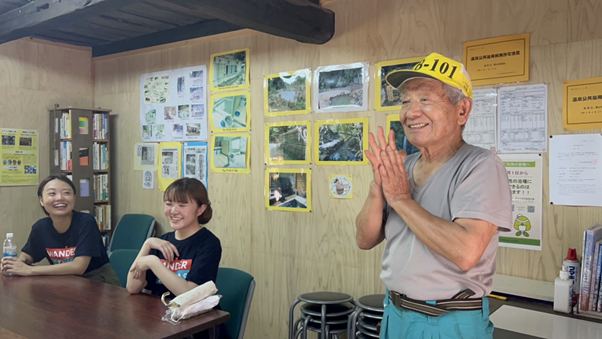 When I visited Yuyama-no-sato, Mr.Tsunematsu(on the right) welcomed me with a kind smile. I told him that I'm working at WCB, and he asked me to write a shikishi(a special kind of Japanese card paper that is often used for drawing and autographs) to be displayed in the facility. So far, there's an impression note that customer feedback was recorded, but he said "From now on, we will use shikishi. It's the first one!". After that, he talked about the art that the guests of Yuyama-no-sato and saunas and water baths that he'll make. It conveys his personality of taking good care of his visitors and of course onsen as well.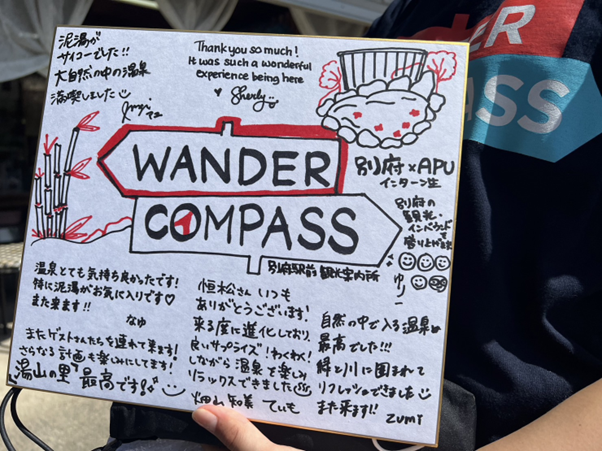 Through talking with Mr.Tsunematsu, I got the impression that he was always a smiley and caring person. When I look back at my pictures, he smiled in every picture.Whenever Mt. Tsunematsu was talking and smiling, a smile appeared on my face too. That is to say, smiles are contagious. I've learned from his smile that it's important that I talk with guests with a smile.
Mr.Takasaki at Sabo Takasaki
Following this, I'll introduce the unique café called "Sabo Takasaki" that has onsen. It is familiar with spa-ports and registered in Beppu-hatto-osendo. At this café, we can take a bath in the hot spring after taking a short break. The owner of Sabo Takasaki, Mr.Takasaki(at the center) welcomed us kindly.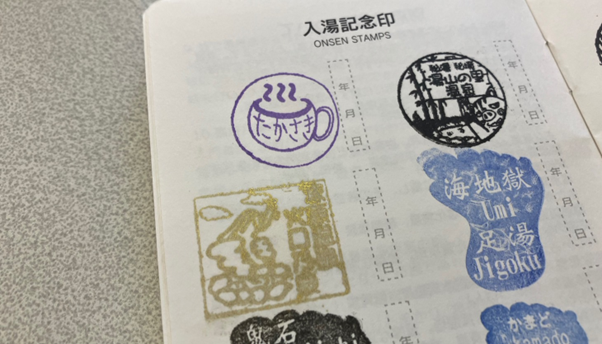 I told him that I am working at WCB as an intern and he welcomed us and talked about his activity. He's not only the owner of the cafe but also the person who is working to revitalize the Asami area in Beppu. Moreover, he's the first president of the association of masters of Beppu-hatto-onsendo.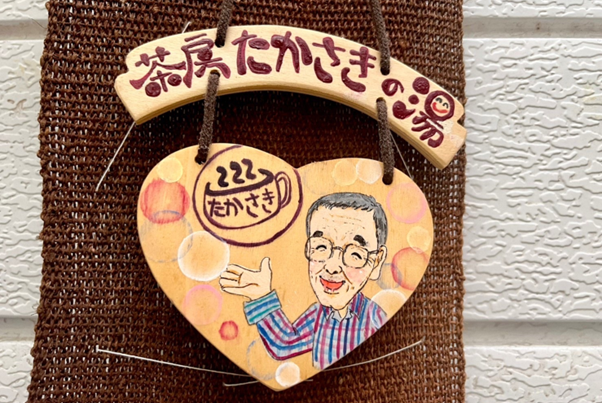 Mr.Takasaki felt that he wanted to do something about the aging population in the Asami area. He decided to plan a town walk, create a map, and held a morning market. There are many attractive places in the Asami area, especially the Hachiman Asami Shrine. Through the town walk, map making, and morning market there, he wants more people to know about Asami and to come to the area. He gave us advice based on his own experiences while he was talking about Asami, and it was a wonderful time of learning. Learning life lessons from senior people is always a great learning experience.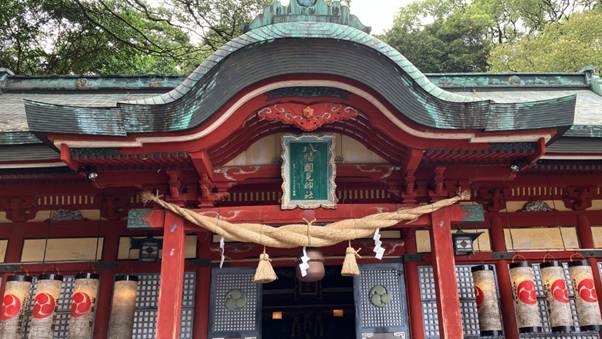 Mr.Goto at Uchinari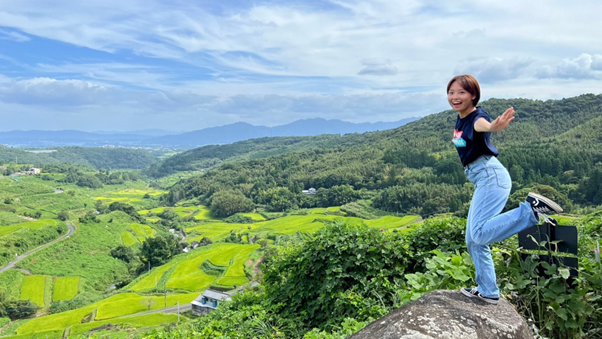 Do you think that the tourist attraction in Beppu is only onsen? No, it's not. There're beautiful terraced rice fields in Uchinari, Beppu. It takes only 15-20 minutes by car from beppu station. This photo shows a spectacular spot called "Tsukimi-ishi''. When you see this picture, you want to go there, don't you? At Uchinari terraced rice fields, I met Mr.Goto who is involved in various activities to enhance the Uchinari area.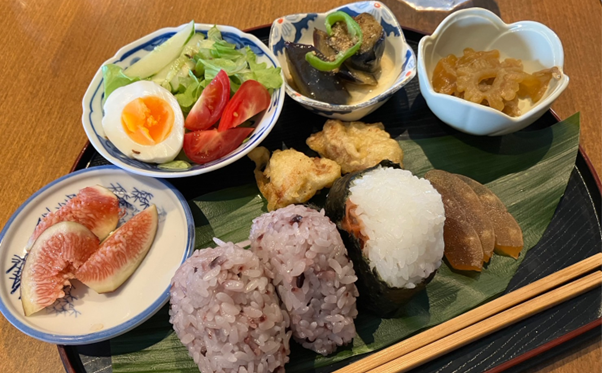 When I visited there, his wife prepared lunch for us. The rice and vegetables, fruits are harvested at Uchinari. All of them are delicious. By the way, it was my first time eating fig. I thought I didn't like it before eating, but it was good. It was also my first time trying out fig for other members in my internship. At that time, I thought many youths may have many foods that they've never eaten. Without this kind of opportunity, I wouldn't have chosen it myself. In Uchinari, there are encounters with not only Mr.Goto but also fig.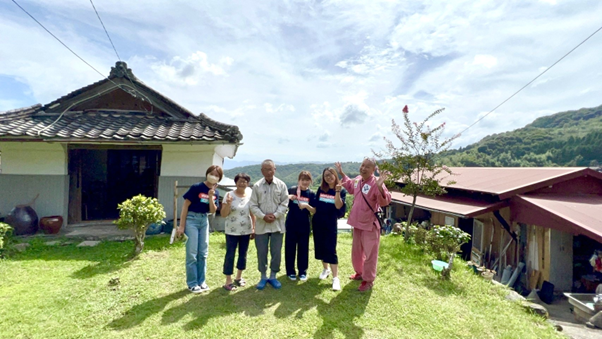 During lunch, he told us a lot of stories. For instance, various university students had been conducting research in these Uchinari terraced rice paddies, and he had rented an annex to a family who was camping in the terraced rice paddies. What impressed me the most was the story of activities to preserve these terraced rice paddies. Uchinari, like the Asami area mentioned before, has an aging population. Fewer and fewer people are taking over these terraced rice paddies. As you can see from this photo, the rice paddies are disappearing in some places. In order to promote their attractiveness and preserve them for the future generations, he created a walking map of the Uchinari terraced rice paddies. In addition, Mr.Goto supports the recently opened "MUGYUU" café at Uchinari. He can be described as a professional of Uchinari. Amazing, isn't it?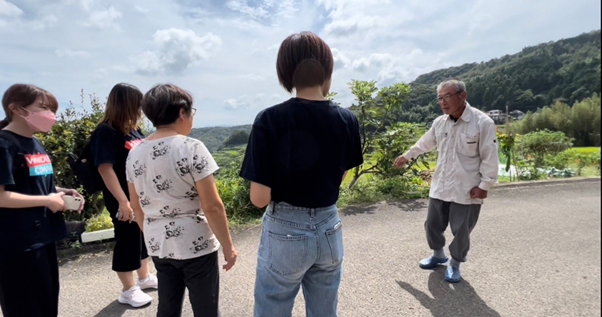 What Mr.Takasaki and Mr.Goto have in common is that they are both working to address local issues as if it were their own. They think about what they can do and carry it out. It is amazing, isn't it? When I thought about how I could acquire this skill, I realized that I could imitate them when I work at WCB by "taking issues as my own". I need to see the visitors' problems as my own and solve them together. I learned this attitude from both of them.
Ran-chan & Kaji-chan at global tower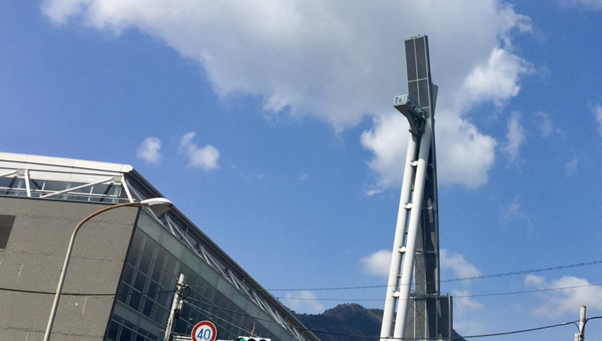 I was wondering if there's a place to get a panoramic view of Beppu city. But, there was! The name is "Global Tower". Not only the name but also the tower is magnificent. I went there by bicycle from Beppu station to the entrance of the global tower, and after a long and tiring ride, I saw an amazing view from the tower. Not only the view, but also I had a great time meeting visitors from Usa city.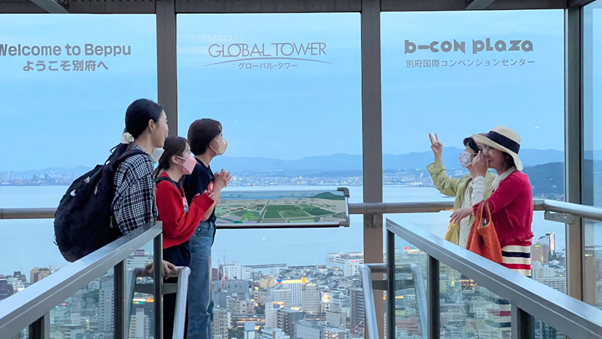 "The sunset is beautiful today. Is the entrance this way?" Two women asked me. I told them we would also go there, and they asked us to go together. When I went up to the top floor, they were taking photos together. While taking photos, we had a small talk. Their names are Ran-chan and Kaji-chan. They told me that they decided to go to Beppu this morning and were in a hurry.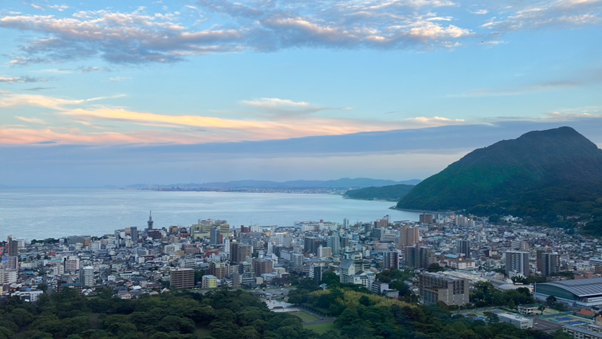 "I thought about going to beppu this morning and coming here. I'm glad that I had a wonderful encounter." said Ran-chan and Kaji-chan. During the conversation, they asked us a lot about us like "What's your name?", "Where are you from?". At the end, they took a memo from us saying "I'll take a memo because I'm going to forget it!". There were lovely women who cherished their encounters.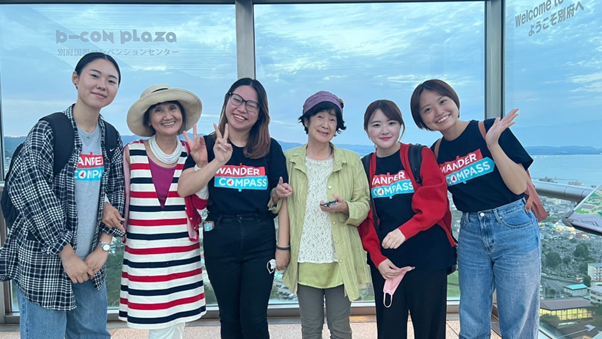 I had a thought during the precious encounter. If it is a part of everyday life for us, for visitors, every moment can be one of the most memorable of their trip. In other words, how we communicate with the visitors can change their memories about the trip. It was one of the moments when I realized about this.
In addition…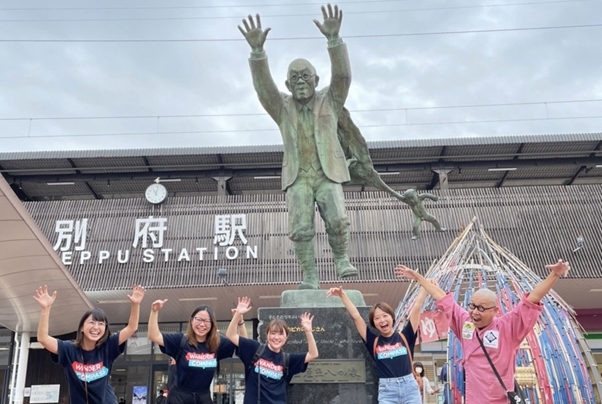 I've gained many precious encounters and memories, but there are many wonderful people in beppu not mentioned in this article. There're Mr. Hanada, known as Beppu's Ikkyu-san(the owner of In Bloom Beppu), Mr. Ishii, a hot spring master, the staff of Kannawa Mushi-yu, and Mr. Kono, the chief priest of Eifukuji Temple, just to name a few. I'm very grateful that I live in Beppu during my university life and worked at WCB so that I can tell the attraction in Beppu to visitors. From October, I'll start making the route for international visitors. I'll keep working hard to share this lovely city with all of my new guests. See you in my next post or at WCB!
EnjoyOnsen