Introduction
Long time no see! I am Nayu from the Ritsumeikan Asia Pacific University (APU) internship program. Have you ever read my last month's report? This month, I will share my first experience of planning a guide route and guiding other people.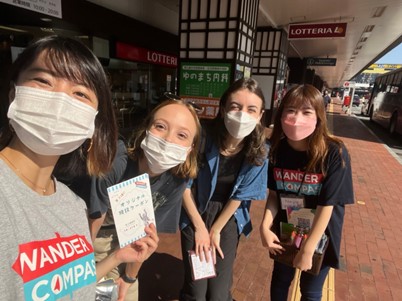 This month, I made a guide route in Beppu City for the first time. The special guests I guided were Amanda and Amalia, graduate students of Ritsumeikan Asia Pacific University. The first time I met them was when I worked at the tourist information center "Wander Compass Beppu". They visited there to buy bus tickets to Yufuin. While waiting for their bus, I could have a great time communicating with them. Amanda is from Italy, and she is a cheerful character. She told me and another staff working at Wander Compass Beppu that she wants to become a tour guide in the future. I think she can definitely make her dream come true because her personality makes people happy. In addition, Amalia is from France and has a lovely smile. Her smile always makes me relax!
I took a lot of time to select the best guide route that my guests, Amanda and Amalia, would enjoy from the bottom of their hearts. It is because I do not know where they have been in Beppu City before and their interests. Therefore, I predicted their interest from the conversations we had. I thought that famous tourist spots like "7 Hells of Beppu" are easy to get to without local people or someone who knows about Beppu City. Thus, I thought that providing unique experiences that the guests can try because they are with people who know Beppu City well is suitable, for instance, focusing on the lives of local people. After much consideration, I finally decided on my guide route to cook and eat Jigoku Mushi (Hell-Steamed Cuisine), a popular healthy meal cooked with hot spring steam, by ourselves and then go for a walk around the Kannawa area.
Guide experience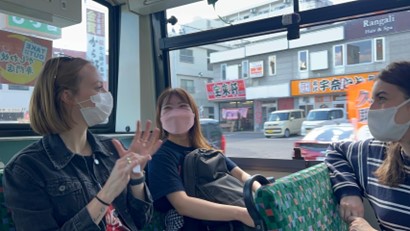 On the day of the guide, I was so worried because I did not know whether Amanda and Amalia would like my guide route or not. Nevertheless, when I found that I shared the same interest as Amanda, my concerns suddenly disappeared. Our common interest is Formula 1! (If you love Formula 1, please visit Wander Compass Beppu on weekends. I am sure we can be good friends!)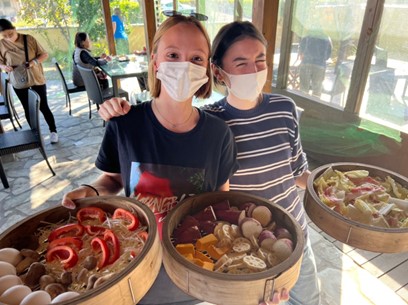 My first plan was to go to Sato no Eki Kannawa to cook and eat Jigoku Mushi (Hell-Steamed Cuisine). Before that, we went to the supermarket to buy ingredients. At the supermarket, Amanda said, "I want to try lotus root. Its shape is like a flower, and it is so cute!" It was interesting because I had a chance to see vegetables from a different perspective than I did (The picture of the lotus root is below).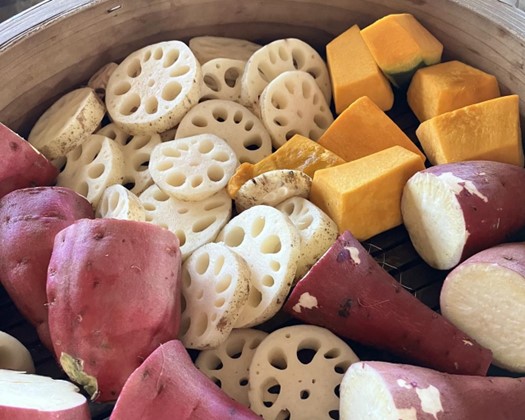 We bought a lot of ingredients while talking about our favorite vegetables. At Sato no Eki Kannawa, we can experience all by ourselves, cutting vegetables and putting them in the pot. Amanda and Amalia loved eating vegetables cooked using the method of Jigoku Mushi and enjoyed their first-time Jigoku Mushi experience. I was so happy to see they had fun. By the way, Amanda's favorite was lotus root which she always wanted to try, and Amalia's favorite was sweet potatoes. For me, pumpkins were the most delicious of all!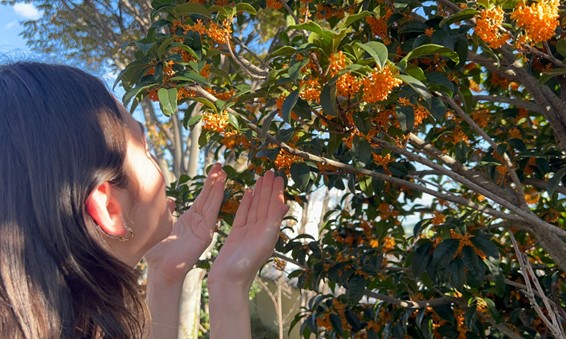 At Sato no Eki Kannawa, you can also enjoy a foot bath. The day I guided was a beautiful day, so I was able to enjoy the view while taking a footbath. Furthermore, at that time, we could enjoy beautiful fragrant olives. Amalia loved the scent of it!!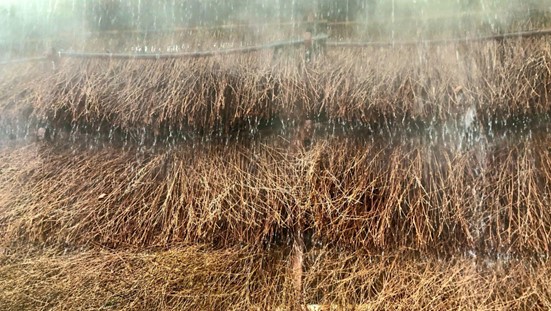 After eating Jigoku Mushi food, we walked around the Kannawa area. They enjoyed watching Yumetake, a hot spring cooling bamboo device, and Japanese scenery.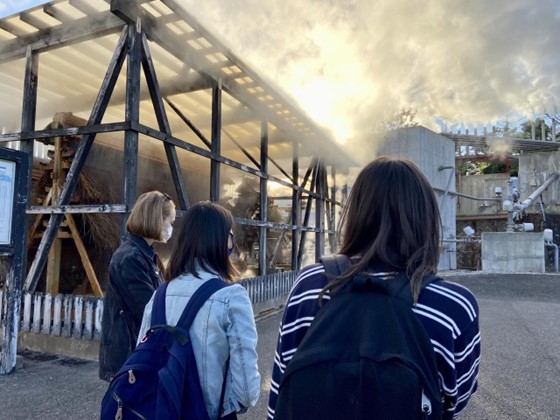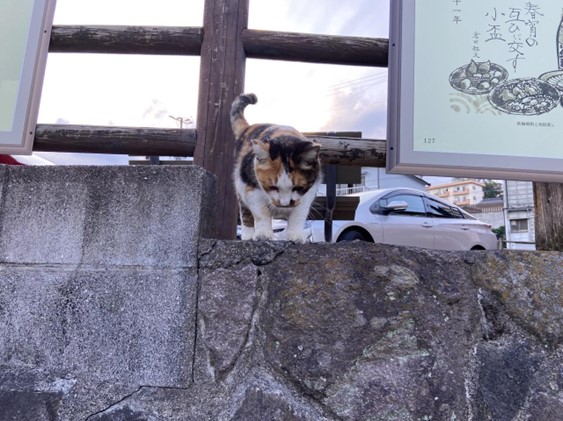 Actually, we were captivated by cats while walking around the Kannawa area. In the Kannawa area, there are many cats because of the hot spring steam. They look so comfortable by keeping their body warm using steam. Please find cats if you have a chance to go to the Kannawa area!!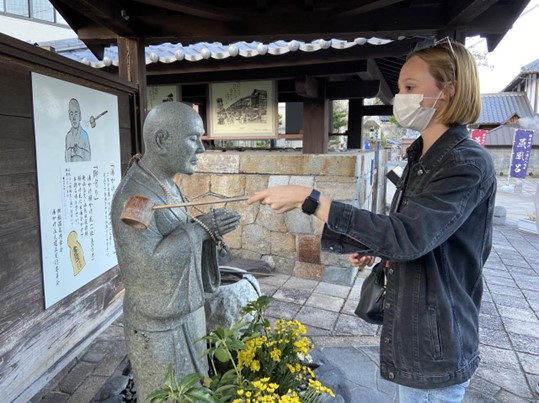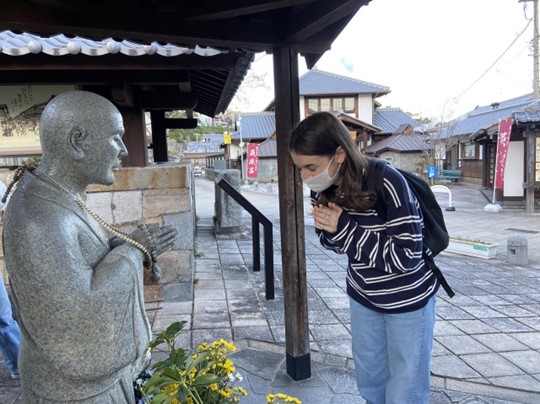 Additionally, we went to the place where the Statue of Ippen Shonin is. There is a belief that you can cure physical discomfort if you pour hot spring water on the specific parts of the statue's body where you want to heal.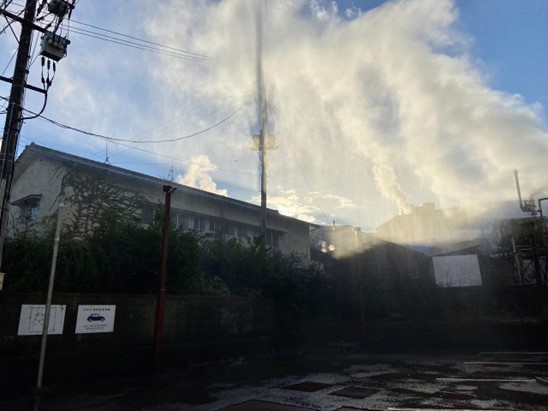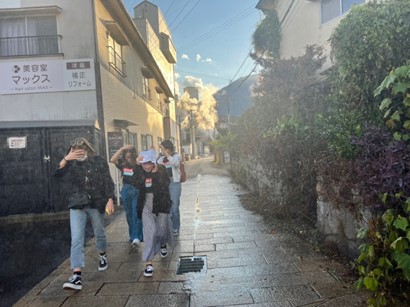 Moreover, on the way to Ippen Shonin, hot spring steam became like rain and falling. It was my first experience!
Feedback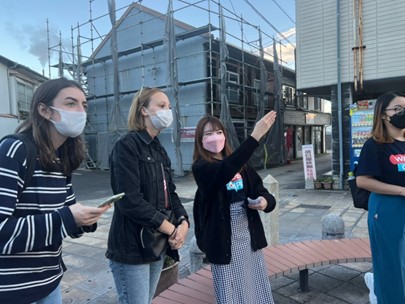 After my guide finished, I asked for their feedback. Amanda told me that the Jigoku Mushi experience was the most memorable because she loves eating. On the other hand, Amalia said that she enjoyed a foot bath very much. Furthermore, they expressed that they enjoyed visiting the very Japanese scenery in the Kannawa area.
From these experiences, I learned that if guests' interests and the guide's route match well, it makes the travel more memorable. Furthermore, there is a trend that foreign visitors who come from Europe enjoy very Japanese scenery.
In the future, I want to know your guests' preferences beforehand and consider routes that they will like. Moreover, I would like to research and gather information from visitors to Wander Compass Beppu on the most memorable places on their trip and the reasons.
Recommended Onsen of the Month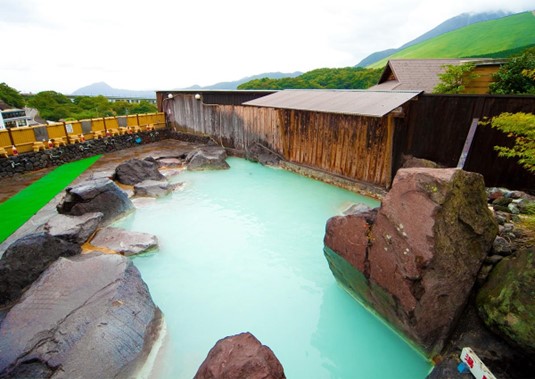 This month's recommended onsen is "Myoban Yunosato." The sulfur spring water will improve your skin tone. The open-air baths also offer beautiful views.
Thank you for reading my monthly reports. See you next month!
EnjoyOnsen