Hello everyone! My name is Nayu from Ritsumeikan Asia Pacific University (APU), and I am an intern at WANDER COMPASS BEPPU.
I hope you have read my first article, "The Charm of Beppu I found through my internship," and my second article, "A Wonderful Encounter."
My internship, which started in September, has finally ended.
The six months, which I thought were long, flew by in a flash, and I came to love Beppu City more and more as I came into contact with its tourist resources and the warmth of its local people.
In this last article, I would like to share with you some of the things I learned about Beppu City and the model routes I recommend!
Recommended Model Route
Here's a model route I've created through various activities since September!
I have created a model route for visitors to Japan, mainly Westerners, and Australians.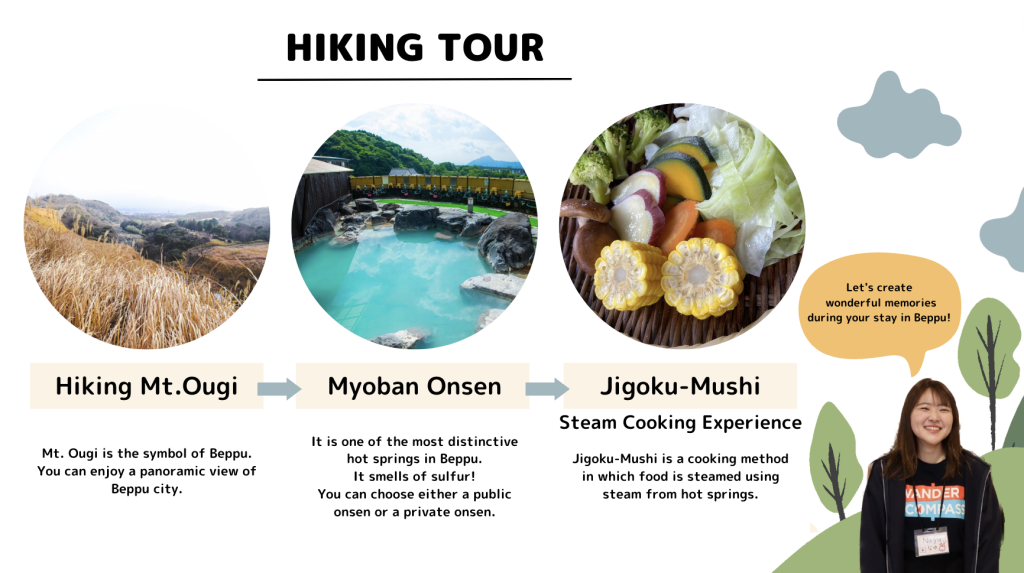 This plan includes hiking at Mt. Ōgi, the symbol of Beppu City, followed by a visit to the Myoban area, one of the representative hot spring areas, where you can enjoy a hot spring bath. After a hot spring bath, you visit the Kannawa area, where you can experience the Jigoku-Mushi experience (The cooking method of steaming food with steam from a hot spring). This tour is recommended for those who like hiking and are interested in wellness tourism.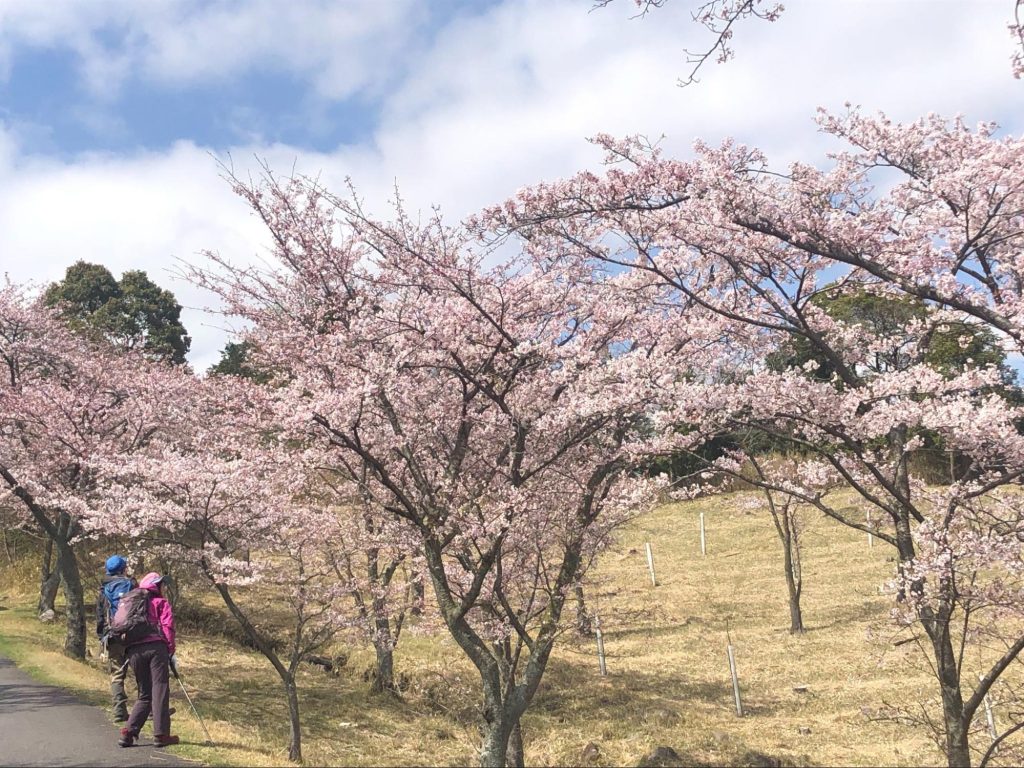 Did you know that you can enjoy different scenery at Mt. Ogi depending on the season?
Especially in spring, when the cherry blossoms are in full bloom and after the burning of the fields, the combination of the black of the ground and the pink of the cherry blossoms are very beautiful! You can even get a panoramic view of Beppu City!
Note that the burning of fields is one of the springtime traditions in Japan, which is to maintain the beautiful grasslands. The field burning of Mt. Ogi is the biggest one in Japan. The Onsen Festival is one of the main events in Beppu. This is to express gratitude and to tell the coming of spring to the onsen gods.
The best time for you to enjoy this model route is in the morning!
Because the morning sun shines in, and taking a deep breath of the clean and pleasant morning air will heal you of your daily fatigue. I think it is only in the mountains of Beppu that you can view the hot spring steam in the Kannawa and Myoban areas from the top of the mountain.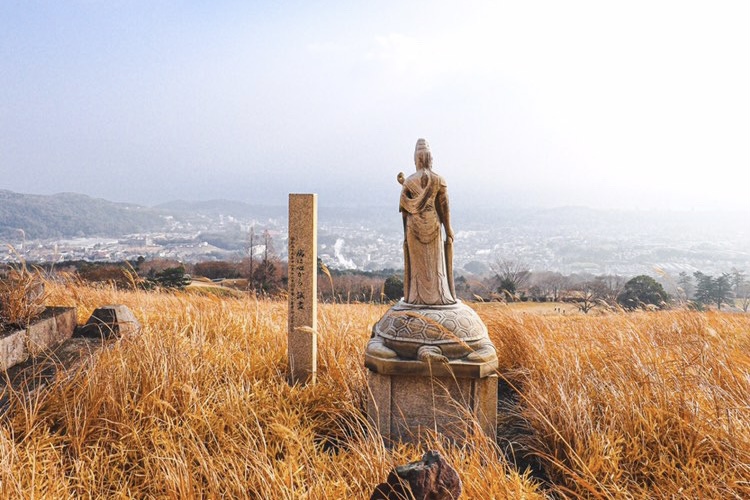 We have some recommended routes for you to walk, so if you are interested in hiking Mt. Ogi, please visit WANDER COMPASS BEPPU!
How the model route is created
Through my internship, I learned that Beppu City has many tourist resources, including hot springs. On the other hand, it is also important to foster "the ability to objectively see Beppu's attractions" to fully convey Beppu City's charms. I also went to Nara Prefecture, where many visitors to Japan visit, for a four-day inspection tour from November 24 to 27.
What struck me most during that visit was the issue of the small number of tourists staying overnight in Nara Prefecture because of its proximity to the large cities of Osaka and Kyoto. To address this issue, Travelers Hub Nara, a tourist information center operated by Huber, proposed "morning activities." For example, the staff introduced the morning activities that can be done only in the morning, such as seeing the mysterious scenery of deer walking in the morning sunlight in Nara Prefecture, to motivate tourists to stay overnight.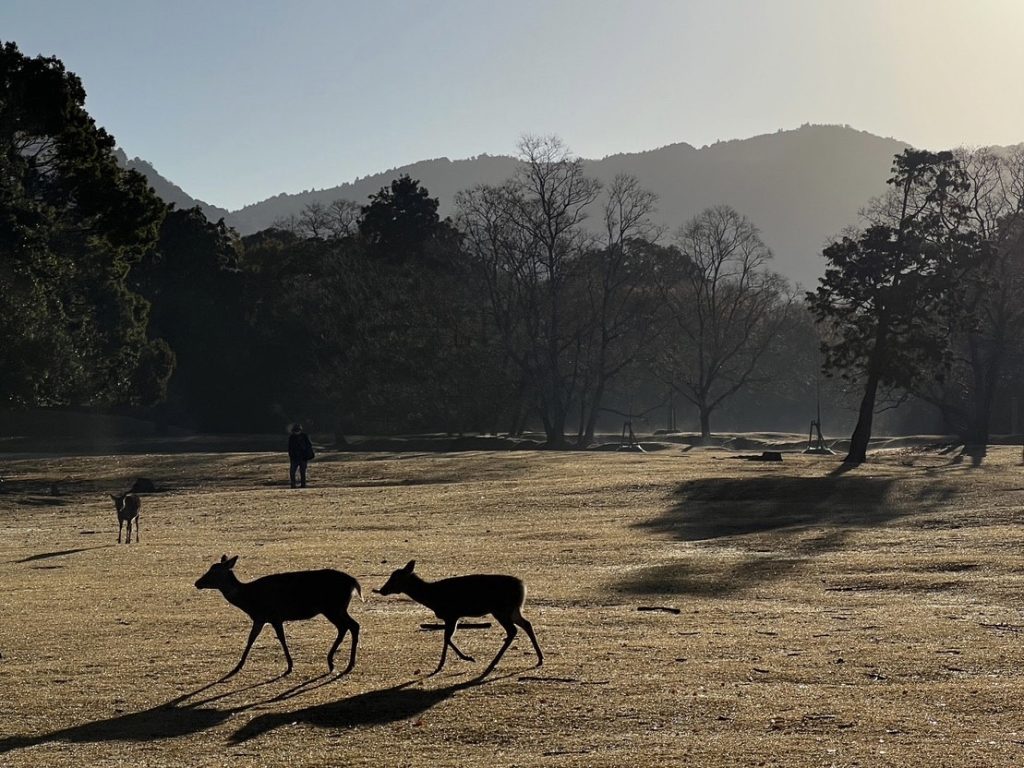 This led me to learn about "morning activities" and I thought it would be great if there were things to do in Beppu City in the morning. I researched hot springs and stores and found that stores open late. Therefore, I tentatively assumed that Beppu City's problem was that "the opening hours of stores are late, which restricts the time for tourists to do their activities."
I considered this by looking back on conversations with visitors to Japan at Wander Compass Beppu, the tourist information center at Beppu Station where I worked. Hot springs in Beppu are open from around 6:00 a.m. However, there are no private hot springs that visitors to Japan prefer in the early morning. Even if visitors want to start their activities in the early morning, they are restricted because the private hot springs open around 10:00 a.m.
Moreover, the Beppu Jigoku Meguri Tour is open from 8:00 a.m., but some Western Australian visitors to Japan did not go to the Beppu Jigoku Meguri Tour, which is " looking sightseeing," as early as in the morning. Therefore, we decided to consider other activities besides this as a solution to " tourists' limited time for activities due to the late opening hours of the stores."
Morning Activities in Beppu City
My idea of a "morning activity" in Beppu City is hiking! There is no time limit for hiking, so you can fully enjoy the morning regardless of the restaurant's opening time.
For this solution, I consulted the opinions of visitors who came to WANDER COMPASS BEPPU.
For example, "Would you like to conduct activities during the morning hours?"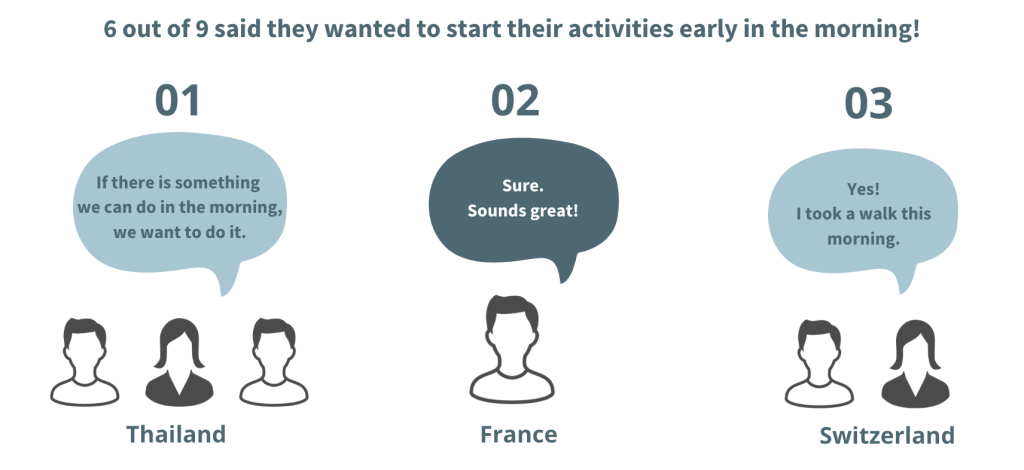 "If you have a chance, would you like to go hiking in Beppu City?"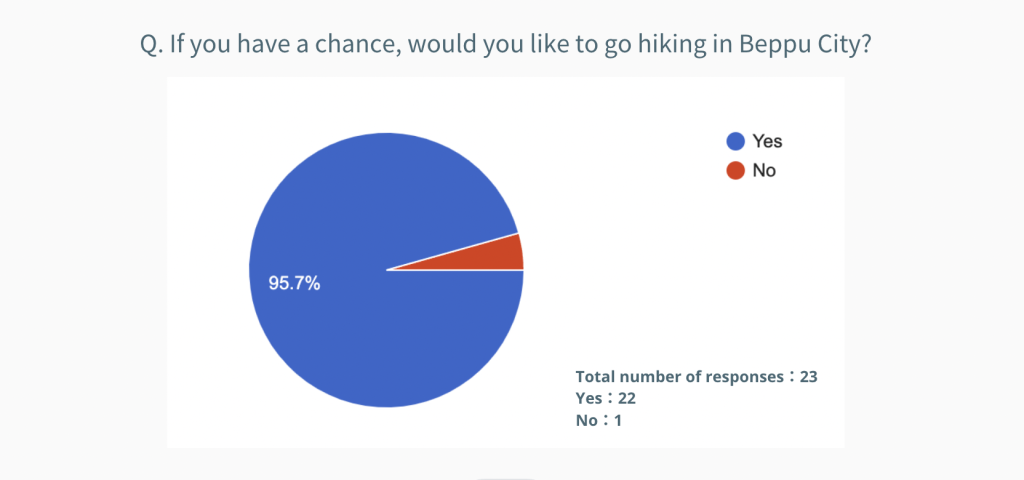 "When you hike, which criteria are important for you?"

I asked these questions utilizing Google Forms.
Thank you to everyone who responded to the survey.
In the survey, "scenery" was the most important factor for hiking, with 21 respondents. Visitors can enjoy the scenery of the four seasons in Beppu, including cherry blossoms and autumn leaves.
I hope that through this model route, "morning activities" in Beppu City will become more widespread and there will be more hours and sights for tourists to enjoy!
Putting my ideas into practice
I got a lot of inspiration from the city walk in Beppu City and the training in Nara. For example, the audio guide I heard in Totsukawa Village, Nara Prefecture. The audio guide includes the sounds of rivers and birdsong. I thought that if there were audio recordings of various sounds in Beppu City, not only those who have been to Beppu City but also those who will come in the future would enjoy them. That's how we created the "Sound of Beppu"!
The "Sound of Beppu," which includes the sounds of "Beppu~ Beppu~" played at Beppu Station, is now available on Spotify, Apple Podcast, and Anchor, so please give it a listen!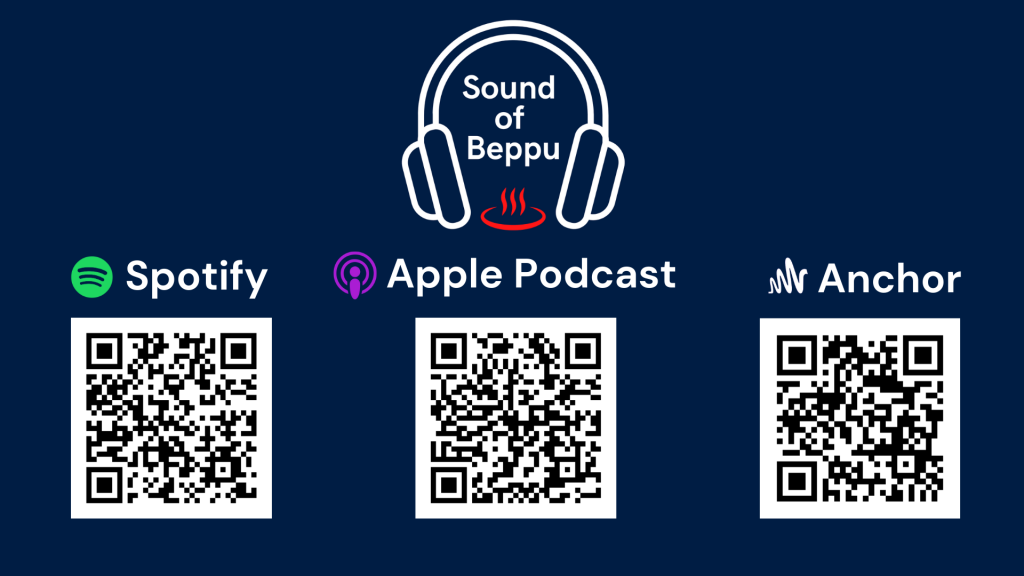 The Kitakyushu Tourist Information Center (Travelers Hub Kitakyushu), where we stopped by on our way back from our training in Nara, had a tool called the "Kitakyushu Burari Card". The cards introduce various tourist spots in Kitakyushu with photos. I thought this tool would be very useful for people who came to Kitakyushu but don't know what to do, and for people who want to know what places they should visit in Kitakyushu. Therefore, we created a Beppu version of the card.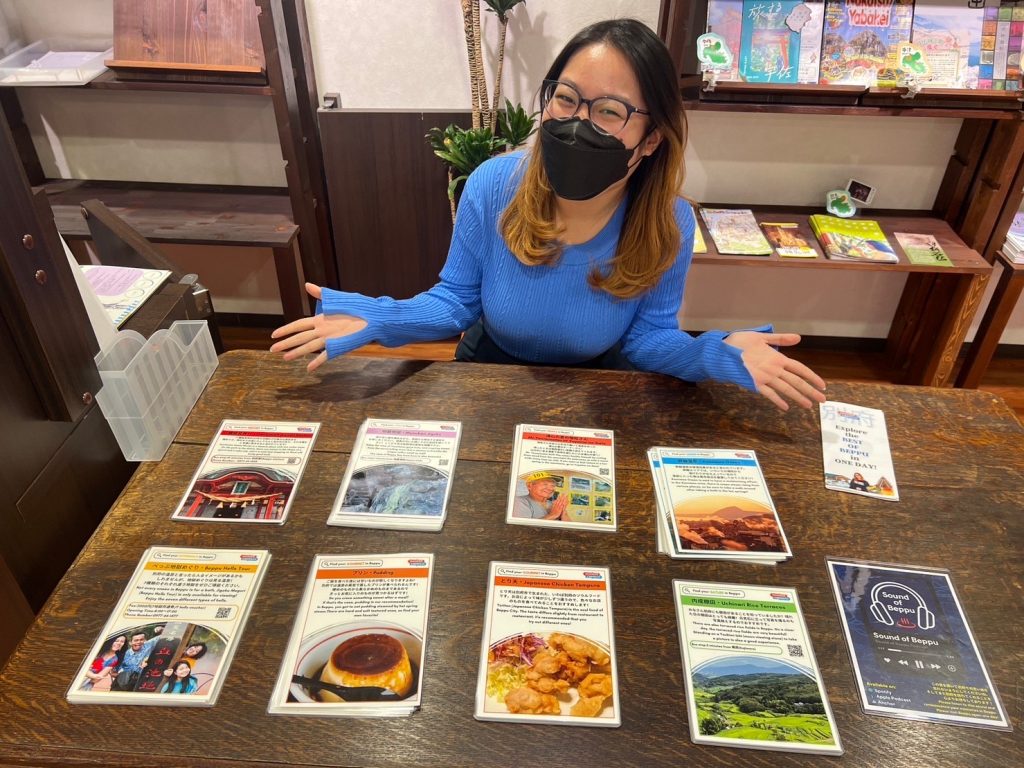 The card includes not only the phone number of the restaurant and the nearest bus stop, but also the restaurant's image to make it easier to identify the restaurant. We also included explanations of what "toriten" and "dangojiru" are, and other information that we thought would be useful from a tourist's point of view.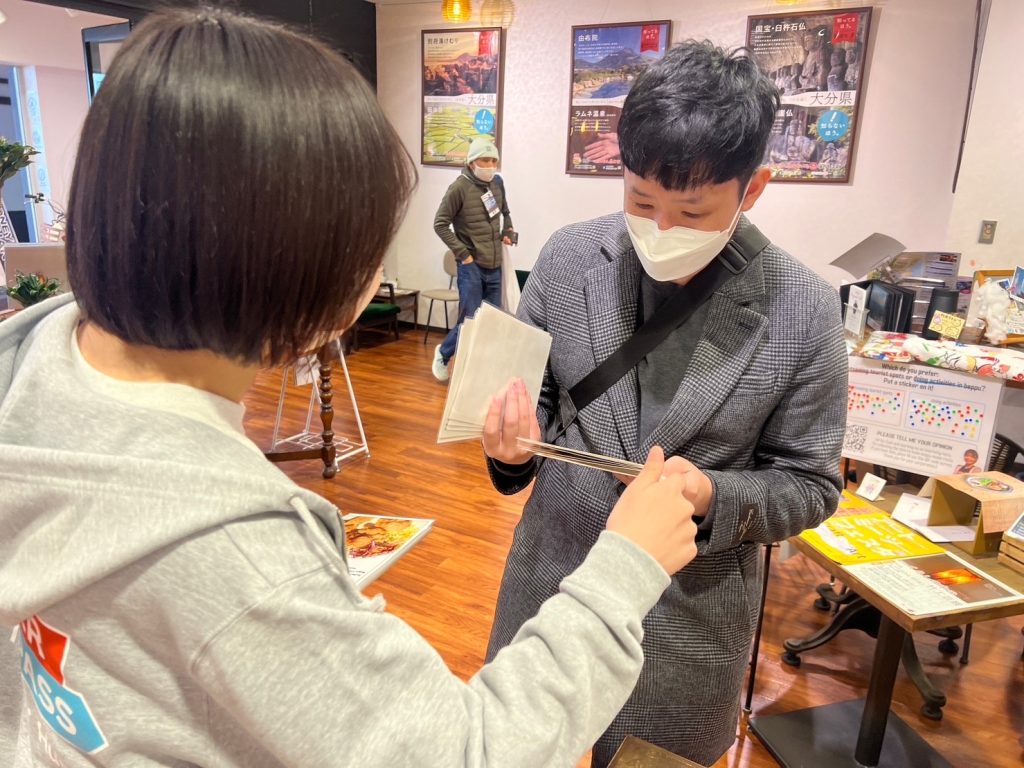 In fact, we received comments from tourists such as, "It is easy to understand because I can see all the stores at once," and "The explanations about the food are helpful."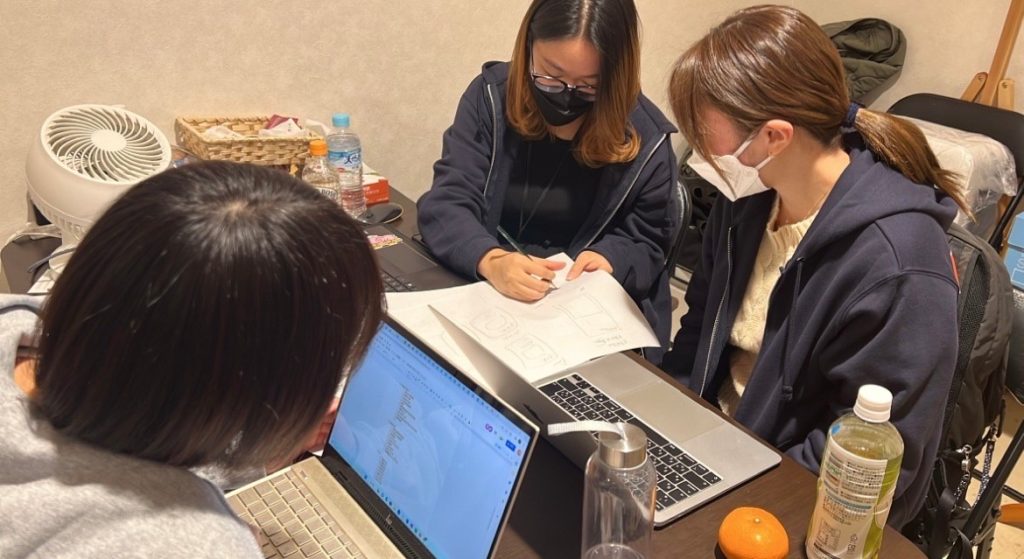 I used to hesitate to take action when an idea came to me. However, through this internship, I was able to learn the importance and pleasure of giving ideas shape.
Many people who have helped me
I am indebted to various people who helped me during my internship since September.
First of all, I would like to thank Timo-san, who was my mentor.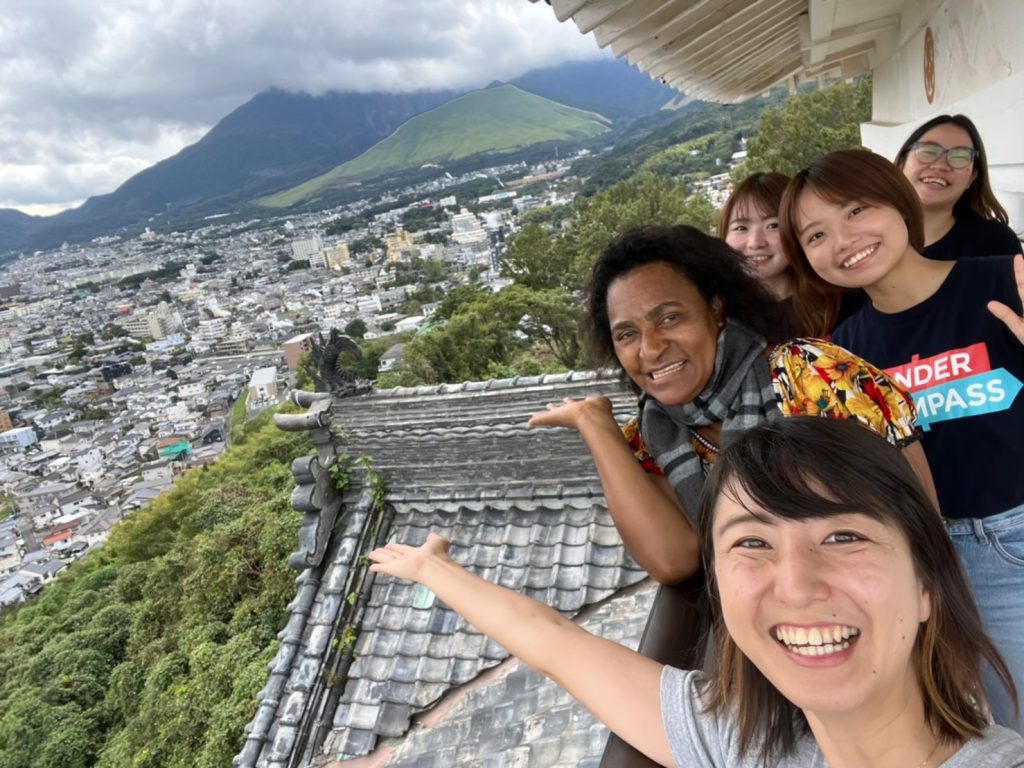 Through a city tour of Beppu City, we were taught about Beppu's tourist attractions and the warmth of the local people. At the tourist information center "Wander Compass Beppu", she taught me the importance of hospitality to make our guests' time at the destination as good as possible.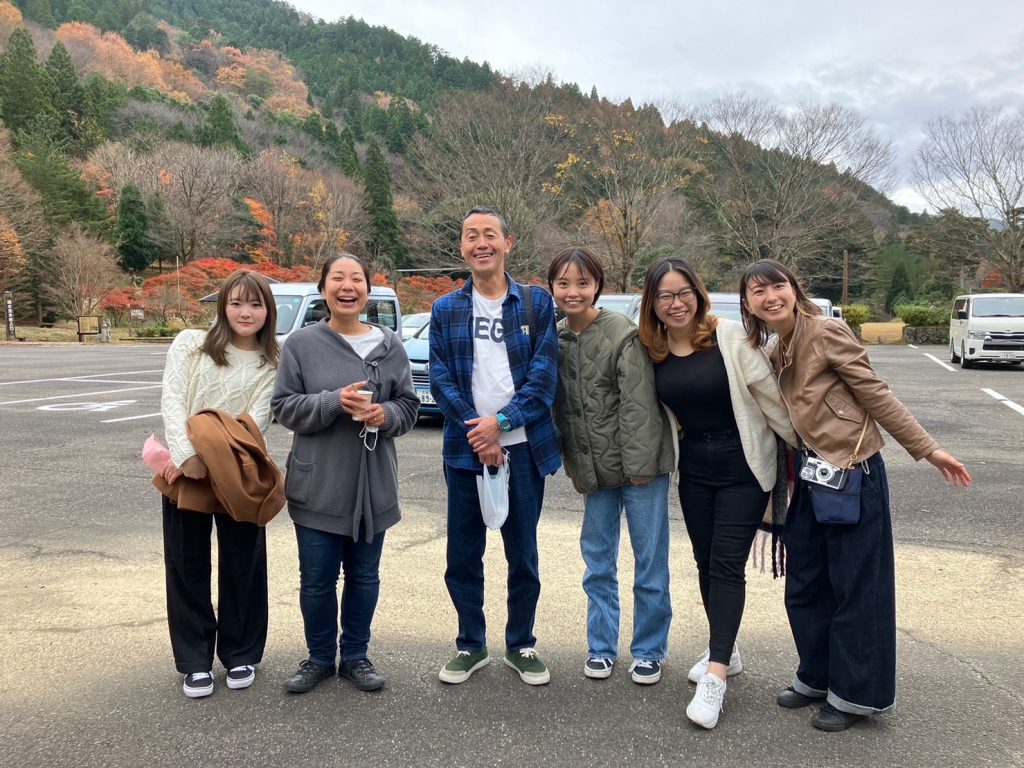 In Totsukawa Village, Nara Prefecture, Ms. Kakuta as our guide taught me about the history and traditions of Totsukawa Village, and I had a very educational and meaningful time.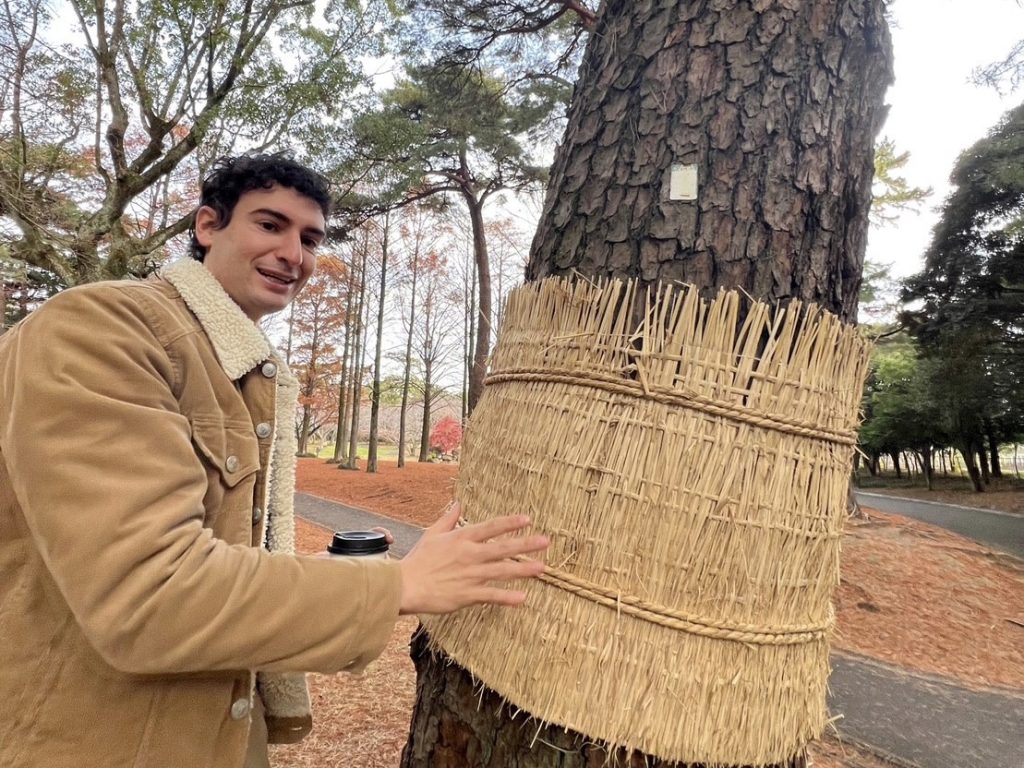 Mr. Joran taught me about the types and characteristics of the trees in Beppu Park, and I was able to enjoy a walk in Beppu Park from a different perspective, making the places I usually visit seem like completely different places.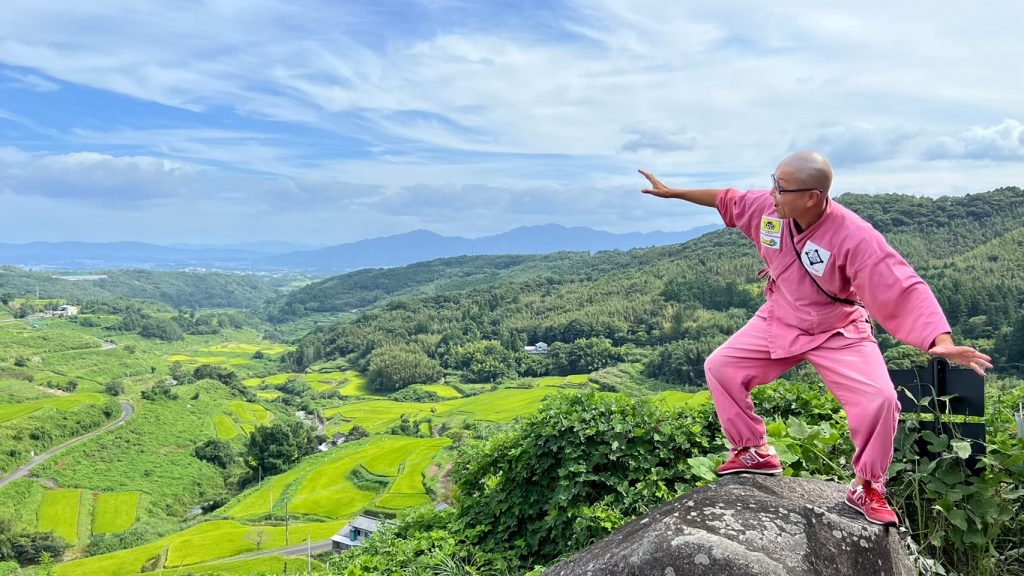 Mr. Hanada, Ikkyu-san in Beppu, showed us around some wonderful places such as Uchinari and Tsukahara Onsen, which I thought, "I didn't know such places existed in Beppu City."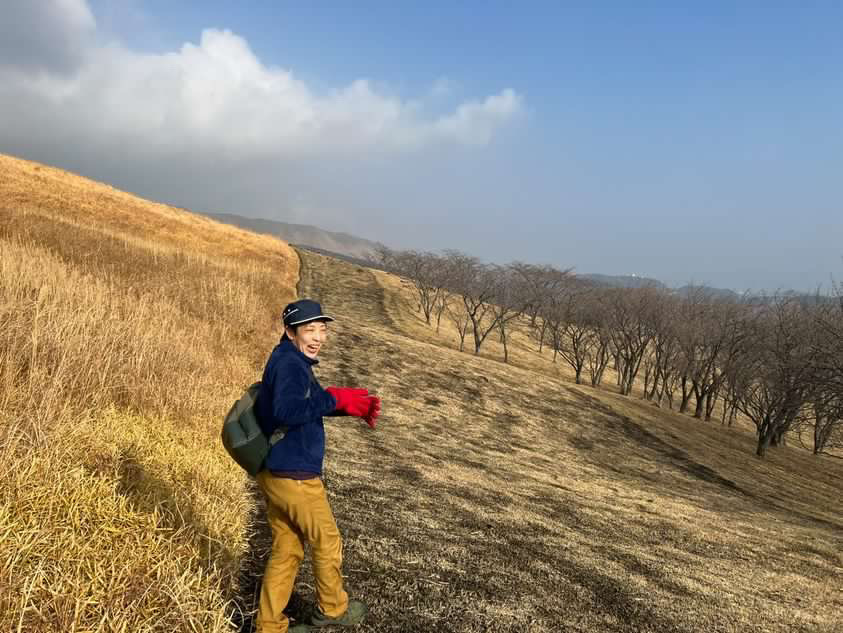 Finally, Ms. Kiriko guided us on a hike up Mt.Ogi, the symbol of Beppu City. Through Ms.Kiriko's guidance, I learned that Mt.Ogi, which I had often seen in everyday life, was a place overflowing with nature and a place where we could enjoy different scenery depending on the season.
Through these experiences, I realized the importance of guides in tourism in the following three ways.
(1) To be able to find attractions that we could not find on our own.
(2) The ability to enjoy the same place in a completely different way depending on the guide.
(3) The ability to engage with people you would not normally have the opportunity to engage with on your trip can make your trip a memorable one.
I hope you all will have the opportunity to enjoy Beppu with a guide if you have the chance!
Recommended Onsen of the Month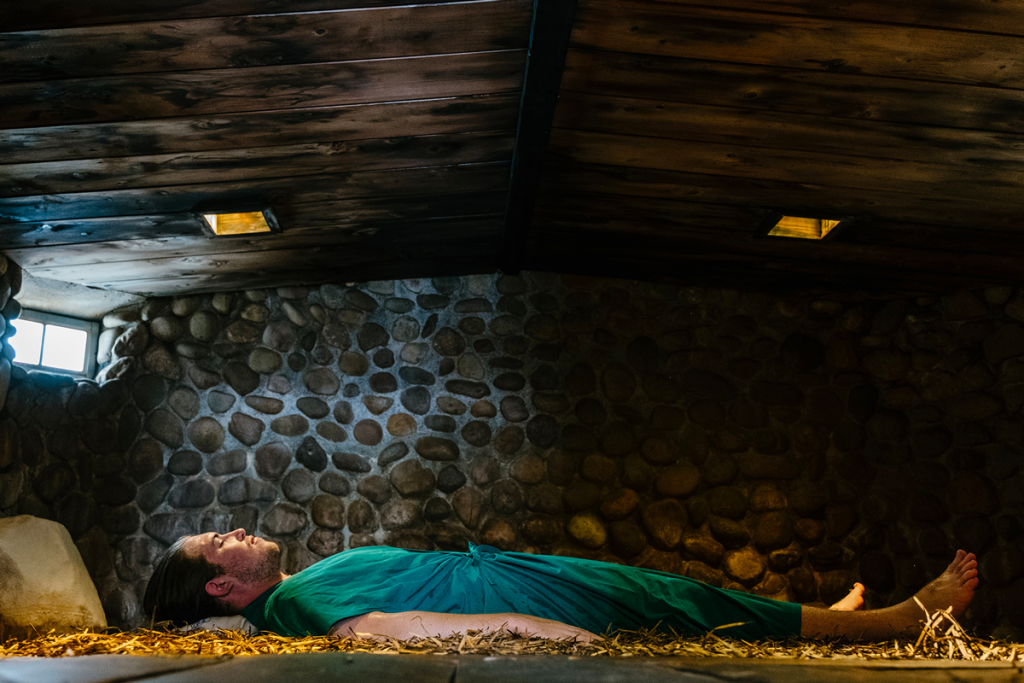 The recommended hot spring is "Kannawa Steam Bath." You can experience a steam bath in a stone room covered with medicinal herbs called Sekisho. It is also very popular among tourists and locals alike because of its detoxifying and relaxing effects!
If you ever visit the Kannawa area, why don't you try it?
Last but not least, thank you very much for reading my article.
I have learned a lot during this internship with the help of APU, B-biz LINK, and Huber.
The tourist information center I worked at, WANDER COMPASS BEPPU, in Beppu Station, has a wonderful staff full of hospitality, so please visit them when you visit Beppu City!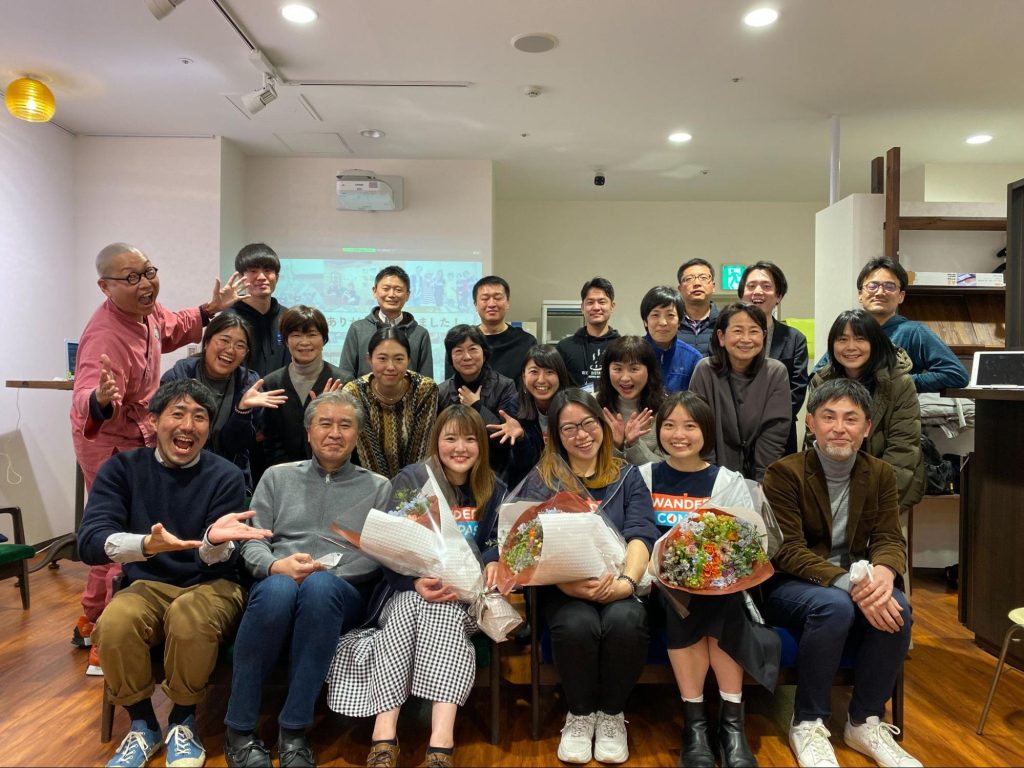 EnjoyOnsen