Whatever you are trying to find, you will find it in Beppu!
When you enter the word "Beppu" in any search engine, the first thing that will appear is probably "Onsen (Hot Spring)." You may start to wonder if that's all that is there in Beppu. I can confidently answer "No, it's not all!"
Greetings to everyone here! I am Sherly from Indonesia, currently studying Business and International Management at Ritsumeikan Asia Pacific University (APU). In this article, I will share with you my experience exploring Beppu as an intern at Tourists Hub & Lounge called Wander Compass Beppu. My experience involves trying many new activities (including Japanese Hot Spring for the first time!), discovering new places to relax, or adding foods and experiences to my "must-do" list.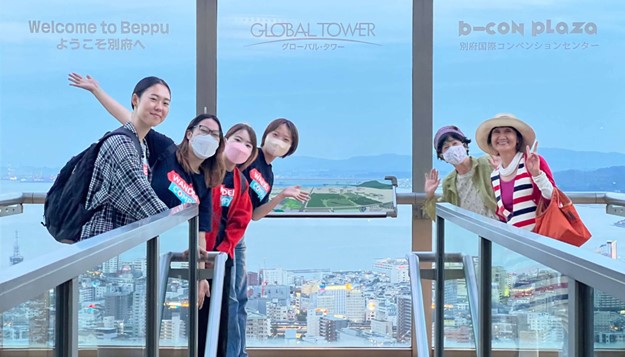 This is my first month becoming an intern, and I can say that I probably explored more places in Beppu in this past month compared to the past five months since I've arrived in Beppu. Due to the previous travel ban, I was only able to enter Japan this year's March. Before embarking on this internship, I often wonder what kind of places there to explore within Beppu. My knowledge and the places that I visited are limited to my school's APU bus line because those are the only thing that I am familiar with.
If you run out of ideas on where to go around Beppu, continue reading this article or come visit us anytime at Wander Compass at Beppu station! All of these places listed below are a perfect inspiration, especially for those of you who have some spare time on the weekend.
Let's start!
Beppu's Unique Natural Beauty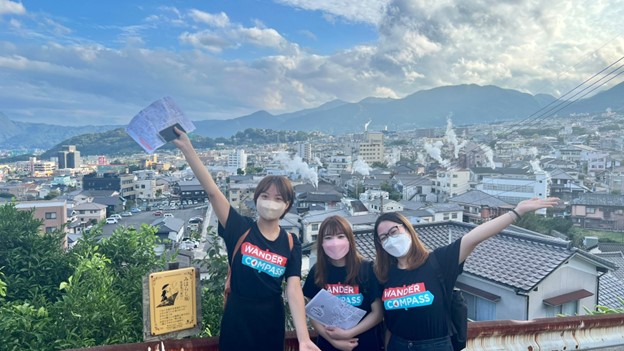 Located in a sweet location in between mountains and beaches, Beppu offers countless opportunities to immerse yourself in activities to your liking.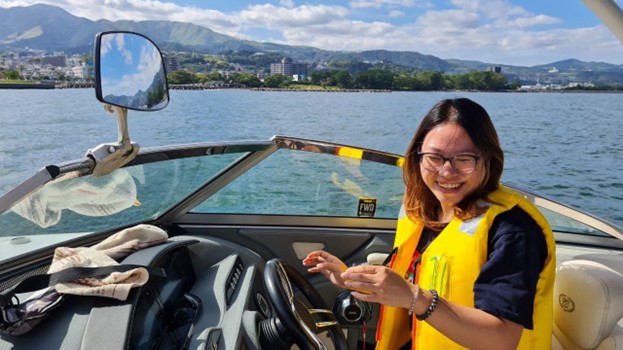 If you are a water sports enthusiast, I would recommend renting a boat to try activities like wind-surfing or as simple as chilling out on a sunny day. Renting in the evening is also possible to witness the beauty of Beppu from the ocean where the city light is reflected on the water. We went on a cruise where we saw Beppu city from the ocean. The feeling of having a chilly wind breeze, sun shining on your head, and looking at the gleaming crystal color of the water was an experience that I never knew existed in Beppu. Although we didn't do any water sports, we got the chance to dip our feet into the cold water of the ocean and trust me; it's the best feeling ever in the summer!
If natural beauty is what excites you, the waterfall, rice field, and Hells of Beppu are places that you would not want to miss.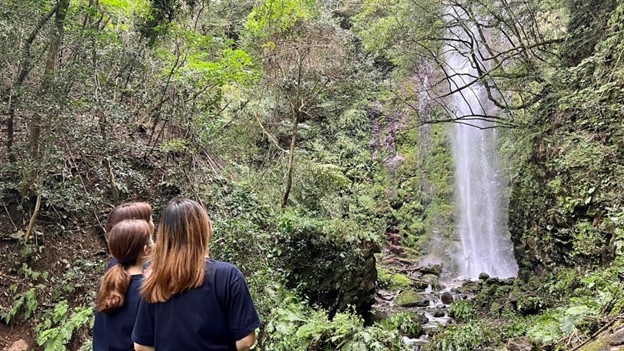 The waterfall was like a hidden treasure as it was located in a forest. Although the walk to the waterfall might make your shoes dirty from some muddy puddle, once you arrive there, you'll be surrounded by the peaceful atmosphere of the waterfall.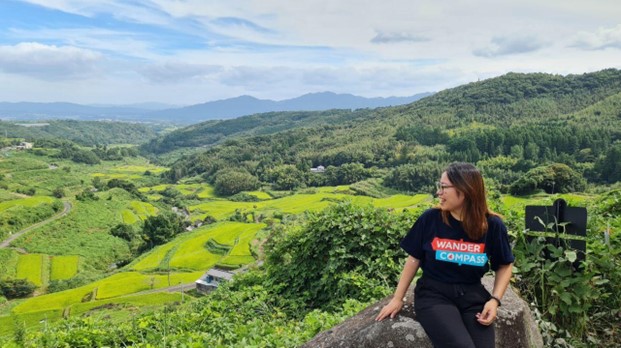 From where I'm from – Indonesia – we have a lot of rice paddy fields. When we arrived at the Uchinari rice field, it felt nostalgic. It felt close to home. The green scenery where the mountain shadow meets the blue skyline is what I often see in my home country. Enjoy the spectacular view of it from the designated viewpoint. Furthermore, it's only 20-minute drive from Beppu station.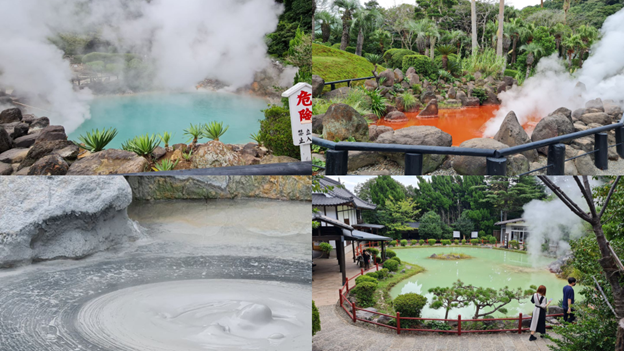 The next one is the famous Hells of Beppu. As this is one of the most visited places when foreigners or locals travel to Beppu, I sometimes wonder what's so special about it. When I arrived there, it was truly breathtaking.
The natural beauty of each "Hells", you would never find it anywhere in the world. From colours like ocean blue, emerald green, and blood red, find yourself stunned by the amazing experience of looking at Beppu's natural wonder!
Anime and Animals Adventure!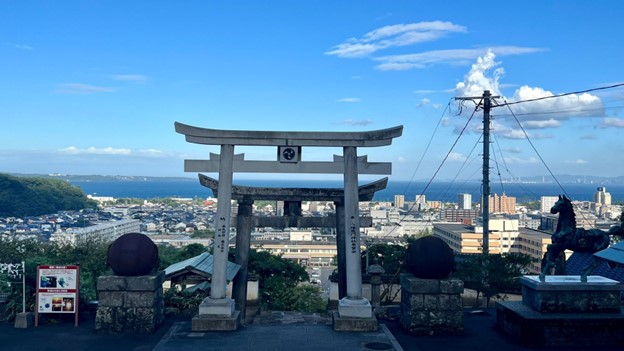 If you happen to be a lover of "Demon Slayer: Kimetsu no Yaiba", make sure not to skip "Hachiman Kamado Shrine (八幡竈門神社)" as this shrine has many connections and many said that it was a source of inspiration for the series either in the character names or story. Also, make sure to step on the big footstep as it's believed to bring power to you!
Takasakiyama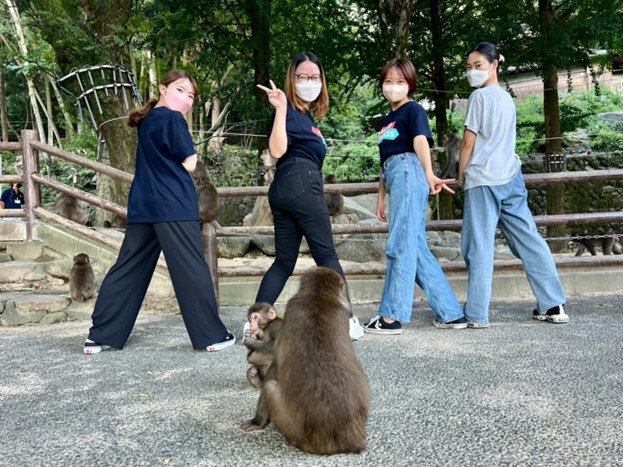 Wanted to be surrounded by monkeys? Takasakiyama is your ideal location!
It's a monkey forest located about 15 minutes by bus from Beppu station. It's not one or two, but hundreds of monkeys spread around the area.
If you visit there, spread your legs and make space for the monkey to go through. If the monkey passes through, then luck will follow you! A little flex here but the monkey passes me two times!
Food: Traditional to Luxury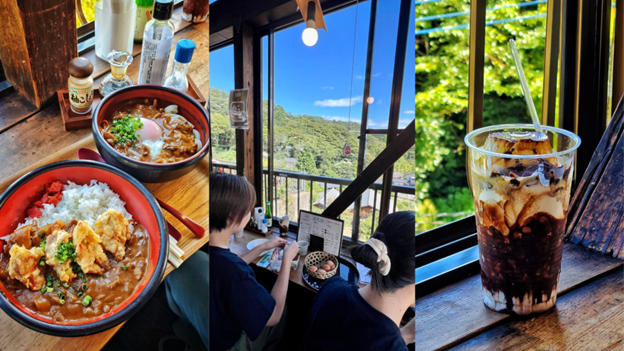 This will probably be my favourite part of the article because I'm a big foodie! And I can tell you that Beppu's food can definitely make you want to go back a second time. Whether you're currently living in Beppu or it's your first time here, you'll definitely love this Toriten (Chicken Tempura) Curry Rice and the original Jigoku-mushi pudding that we tried at Okamotoya!
The combination of crispy fried chicken with flavorful curry can never go wrong. Complete your experience with their original Jigoku-mushi pudding (地獄蒸しプリン) parfait.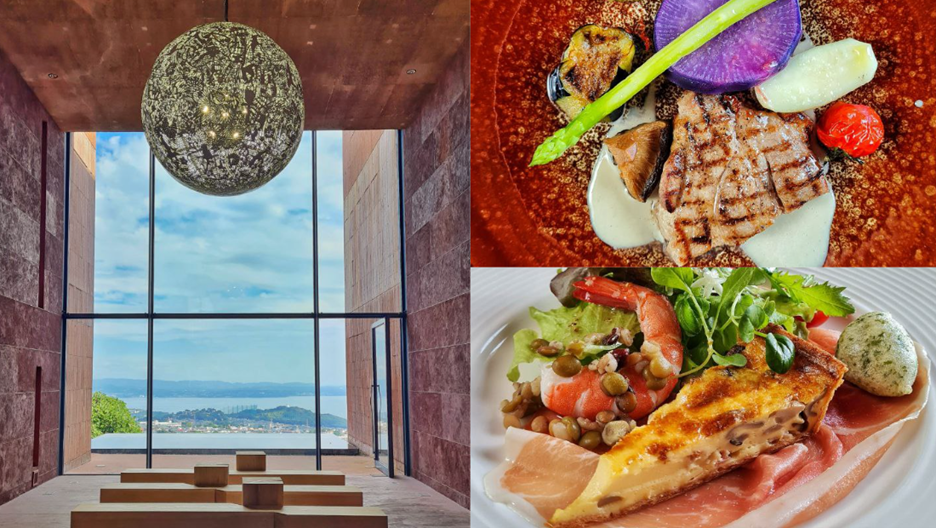 For a more luxurious experience, Galleria Midobaru offers delicious lunch or dinner courses. Come a little early because this place is also a hotel equipped with an art gallery where you can spot contemporary paintings and crafts by Japanese artists.
First-ever Public Onsen Experience in Beppu!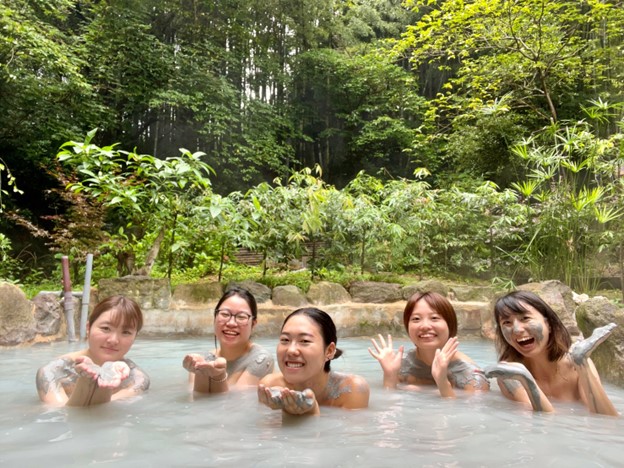 I tried my first onsen experience! Coming from Indonesia where being naked in front of strangers might be considered strange, the onsen experience was always something that I wanted to try yet was anxious about. But, can you truly say you've been here if you didn't try onsen in Beppu – home to more than 2,000 natural hot springs?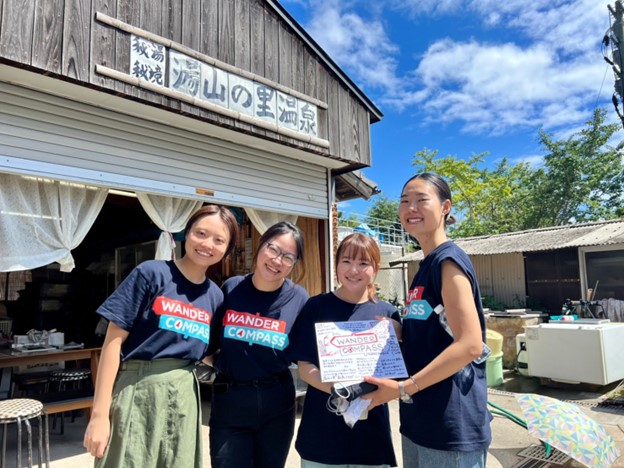 The first onsen that I've visited turned out to be my favourite one so far! It's called "Yuyama no Sato Onsen (湯山の里温泉)." After arriving at the reception and paying a fee of 600 yen for a one-hour experience, you will walk through a calming bamboo forest to reach the onsen. Once you arrive at the onsen, you will be stunned by the natural beauty of each bath. If you're a first-timer, make sure not to forget that you can't wear anything when entering the onsen. This used to freak me out, but now that I've experienced it, it's actually not as bad as I thought it would be. The Japanese are familiar with this custom, and you never have to worry about someone staring at you.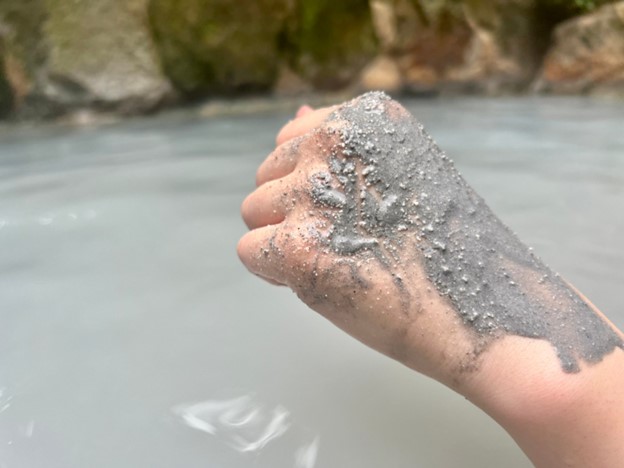 Each onsen in Yuyama no Sato has its own uniqueness and offers different temperatures. One has mud underneath which you could spread on your skin and leaves your skin as smooth as a baby's skin.
Another is placed right next to a small waterfall which is perfect for those of you who want to take a quick dip while listening to the peaceful sound of water flowing down, feeling the breeze of wind pass through, and relaxing your body in a slightly higher temperature water.
So, What's After This: Working at Wander Compass
One month has passed since I started working as an intern at Wander Compass. Besides getting to know more about Beppu by exploring the city, our day-to-day activities also include providing information to visitors at Wander Compass.
Our visitors came from different parts of Japan and the world. From asking about specific information or coming without any plan, Wander Compass is truly the perfect place for anyone who wants to get the best recommendation from a reliable team. It always brings me joy whenever I hear that our service has successfully helped them to have a smooth travel in Beppu.
Although having no problem answering questions from English-speaking visitors, speaking in Japanese is definitely something that I am not confident about still. I am struggling to structure my thoughts into words in Japanese, but this internship has become an amazing (and the best) way to improve my language skill and adjust myself to the customs in Japan. Not to mention, our manager (Timo) and my fellow interns (Zumi and Nayu) have continuously become my biggest support in this internship!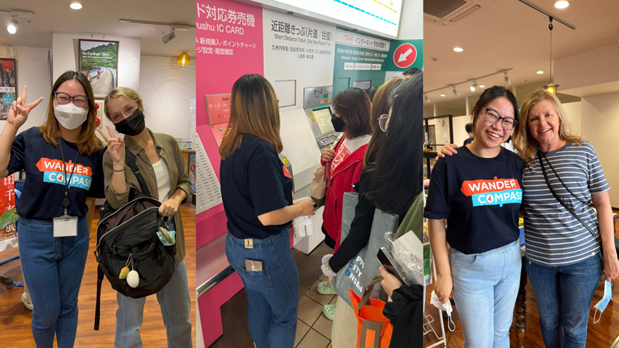 There are still so many places to visit, so many activities to try, and so many foods to choose from. My personal goal is to gather as many onsen stamps on my onsen passport, collect temple/ shrine stamps (Goshuin), and discover hidden gems of this lovely city. I am excited and really looking forward to all of those experiences in the future!

As part of my internship, we will be creating a model route which is a small itinerary for travellers to enjoy Beppu to the fullest. I am excited to incorporate all of my experiences which hopefully will turn into a cool trip itinerary for both locals and foreigners. As Japan is opening up for international tourists, make sure to add Beppu to one of your destinations. We are waiting for you!
EnjoyOnsen